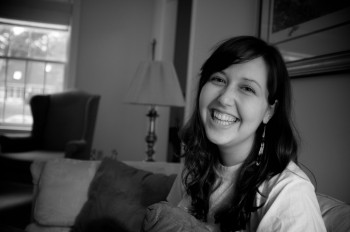 Kerry Weber insists that the Jesuit-run "America" magazine office, where she serves as managing editor, does not have a batphone connected directly to Pope Francis' office at the Vatican, and that the mercy-focused pontiff is not actually doing P.R. for her new book, "Mercy in the City: How to Feed the Hungry, Give Drink to the Thirsty, Visit the Imprisoned, and Keep Your Day Job." It's simply a providential twist of fate that they're both grounded in this foundational element of Christianity.
Kerry's adventurous pursuit of practicing mercy has made her life anything but boring. She volunteered with the Special Olympics in college, taught special education at a Navajo reservation through the Mercy Volunteer Corps after college, and explored the attempts at reconciliation in post-genocide Rwanda during a recent trip there.
It was the idea of practicing all seven corporal works of mercy (feed the hungry, give drink to the thirsty, clothe the naked, shelter the homeless, visit the sick, visit the imprisoned and bury the dead) over the 40 days of Lent, however, that led her to write "Mercy in the City" and add even more new experiences to her life, including the distribution of sandwiches to the homeless at the St. Francis Breadline in New York City and visiting inmates at California's San Quentin State Prison.
During an interview on "Christopher Closeup," Kerry explained her approach to living out her faith: "I think that being Catholic [involves] trying to deal with people in the margins, reaching out to people and trying to include them in the body of Christ and the larger Christian community. Going to places where I've never been before are ways to bring them in and also to expand my horizons…The Gospel calls us to be a little bit uncomfortable sometimes, so we have to challenge ourselves to move beyond our comfort zones."
Loving Lent
Lent's focus on giving something up or adopting a new spiritual practice can also push us out of our comfort zones, which is one of the reasons Kerry is fond of the season. She's grateful it lacks commercial aspects so she doesn't have to ask herself, "What do I get everyone for Lent?"
Instead, she said, "it's a deliberate time where you get the chance to reconsider what you're doing, where you're going, and try to build your relationship with Christ and other people in a supportive community."
That doesn't mean Lent is a joyride. Kerry readily admits that fasting can make her crabby. But at the same time it causes her to say, "If I'm hungry for one day and this is how crabby I get, imagine if I was hungry every day…That discomfort forces you to think about why you're doing what you're doing" and hopefully move forward prayerfully.
Prayer is one of the elements that keeps Kerry grounded in the faith that serves as the spring for all these works of mercy. She says, "Being able to pray through both traditional methods that I learned as a child or through Scripture or just sometimes sitting down or kneeling down and saying, 'God, what's going on?' [is crucial]…I think community is also a crucial part of my life as a Catholic…and anyone's local parish can be a place where you can go and talk to people and say, 'Look, I know none of us are doing this perfectly, but what's been working for you? How do I get through this?' To have that support system is one of the most beautiful aspects of the Church. We're not alone in this. We don't have to sort it all out. There's a huge tradition of wonderful saints and theologians who have thought about these things long before we have. To be able to call upon those people in prayer or through reading – and to call upon the people who are here now to put our real world experience into context – is always really helpful."
Looking Beyond the Surface
Kerry learned one important lesson about the homeless during her experience at St. Francis Church in Manhattan, which hands out sandwiches and drinks every morning at 7:00am. She said, "I realized that I tended to look at people who are homeless as either Christ figures or criminals. It was, 'Oh, they are Jesus' or 'I'd better stay away because it's late, and I don't want to get attacked.' But in the daily interactions…it was like interacting with any group of people. They are examples of Christ, just like everybody else. But they are also people, just like everybody else, who have good days and bad days."
The ability to look beyond the surface and see people's humanity also came into play during and after Kerry's visit to San Quentin State Prison to write a feature about the prison chaplain there who was teaching theology courses to inmates. She was surprised at how normal the prisoners seemed in their conversations with her.
She explained, "When I went in, I didn't know any of the crimes of the men that I spoke with. When I left, I couldn't help but look up some of these things, and it was just such a strange disconnect to think these people that I spoke with were really nice and welcoming in this context. They have done other things that are truly horrific. To reconcile those two things takes some work. But it's also a reminder that they are not necessarily inherently evil, and that's both encouraging and scary because I don't think any of us are inherently evil. If people who are basically good can do really terrible things, it could be any of us. A different upbringing or a different set of circumstances or a different set of pressures, and we could be people who are in prison. I think the line between that is a lot thinner than most people think."
Unfathomable Mercy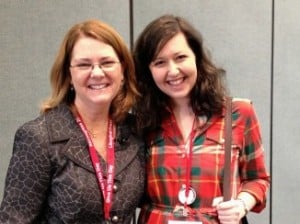 That thin line was most evident during Kerry's trip to Rwanda in late 2013, along with Patheos blogger Lisa Hendey, as part of Catholic Relief Services' Egan Journalism Fellowship. Though it happened too late to be featured in "Mercy in the City," the experience provided a dramatic example of mercy in action.
The purpose of visiting Rwanda was to report on the state of society 20 years after the government-sanctioned Rwandan genocide, during which nearly a million people were killed – many by their own neighbors – over a period of 100 days. Kerry spoke with survivors of the genocide, perpetrators of the genocide, and numerous government and church officials who had worked to restore their country from the ashes.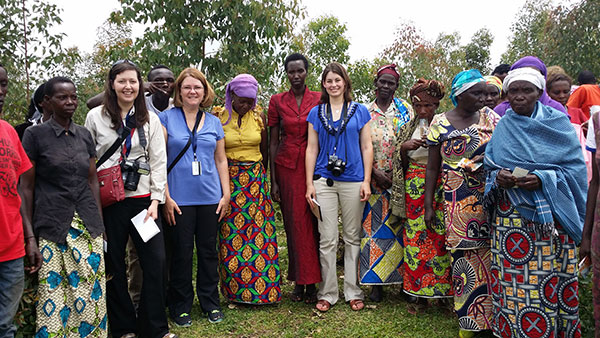 What did Kerry find? "We spoke with a community and reconciliation group that was sponsored by Catholic Relief Services and the Church and diocese. We spoke with people who lived in the same village as the people who had killed many members of their family, now, together, still. And not only lived with them, but in our group when we talked with them, chose to sit next to each other and hugged each other afterward and were friendly with each other. It was almost unfathomable. All the people who spoke to us about forgiveness said that it was a relief for them. They could not go through their lives with this anger because the lives of so many of their family members had been lost to this kind of anger and violence that to continue with it was going to kill them as well and they had to eventually let that go. One woman even, while the man that killed her family was in prison, helped support his family while he was there. It was more mercy than I can imagine."
Tender Mercies, Supportive Faith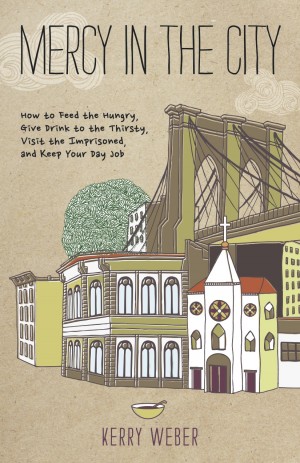 Most of us will hopefully never be faced with the need to grant that kind of forgiveness, but opportunities for ordinary, tender mercies surround us every day. Kerry is heartened by the ones already inspired by "Mercy in the City,"
She said, "I got a nice email the other day from a priest who said he talked about the book and the corporal works of mercy in his homily. Two of his parish secretaries came in the next day and said they cleaned out their closets and they're donating all these clothes because they were so inspired. It's nice to hear those things, to feel like we're all in this together, that we're building a more merciful world through the little actions that we do in our daily lives."
(To listen to my two-part interview with Kerry Weber, click the podcast links):
1. Christopher Closeup podcast – Kerry Weber, Part 1
2. Christopher Closeup podcast – Kerry Weber, Part 2, and Christina Beahan