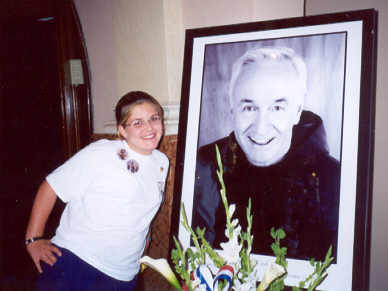 (The following post was originally written in 2008. An update appears at the end of the story.)
Within a few weeks of her birth in 1990, Shannon Hickey was diagnosed with a life-threatening liver disease. Doctors predicted she wouldn't live past the age of two.
Shannon's mother Kelly found support in family friend Father Mychal Judge who called her frequently to pray with her and reassure her that everything would be okay.
Those prayers were answered when Kelly discovered, and then took part in an innovative medical procedure that allowed her to donate a part of her liver to her seven-month-old daughter. The surgery saved Shannon's life. Her family gave credit to God and the prayers of Fr. Mychal who remained a "constant" loving presence in their lives.
When Fr. Mychal Judge was killed by falling debris at the World Trade Center on 9/11, Shannon felt devastated. As she recalled during an interview on "Christopher Closeup," she asked, "How could God let this happen?" Several months later, Shannon found a way to offer tribute to Fr. Mychal's legacy of caring for the less fortunate.
Every year, Shannon and her family celebrated the anniversary of her liver transplant with a party in their Pennsylvania home. In 2002, eleven-year-old Shannon asked that, instead of presents, guests bring socks that she could donate to the homeless – specifically, those who came to the bread line at New York City's St. Francis of Assisi Church where Fr. Mychal had lived. Her Mom sent out emails to family and friends explaining what they were doing. Shannon wound up collecting 1,500 pairs of socks.
Along with the socks, Shannon and her family planned to give everyone a copy of Fr. Mychal's prayer which reads, "Lord, take me where you want me to go / Let me meet who you want me to meet / Tell me what you want me to say / And keep me out of your way."
The day came for Shannon and her family to distribute the socks to the men and women who come to St. Francis every morning at 7:00am to receive the free sandwich and cup of coffee provided by the Church. Prior to that first time, Shannon admits, "Honestly, I was very scared…I was so used to my little house in Lancaster, Pennsylvania…When we got to New York, there were all these homeless men and women lined up in the street and I was like 'Oh my gosh, I didn't even anticipate this'…Once we got on the line, every single fear I had literally just disappeared…I talked to one person and I realized that they're just like me; it's just different circumstances that got them to where they are now."
Though Shannon had always been committed to her Catholic faith, she experienced a spiritual epiphany that day – "When you look at (the homeless) on the street, they're sitting there with their heads down. But if you go up to them and say, 'Good morning,' all of a sudden their head comes up and their entire face brightens up…I never realized that saying 'Good morning' to someone could really make somebody's day. It made me realize that God's in every single one of them so why treat them any different than I treat my friends?"
The sock distribution was originally intended to be a one-time event, but God apparently had other plans. After one of the homeless asked Shannon's grandmother Sharon if she had any underwear to distribute, the family had a new mission. And that's how "Mychal's Message" was born. This non-profit serves the poor and homeless primarily in New York and Pennsylvania. The annual underwear distribution – dubbed "Blessed Bloomers" – takes place every September 11th at St. Francis of Assisi Church. "Mychal's Message" has also collected diapers for babies, "prayer bears" for kids, and coats for the homeless.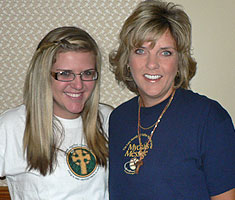 Regarding the philosophy behind her efforts, Shannon (pictured here with her mom Kelly) explains, "I am a really big believer in the fact that any single act of kindness will make a difference in one person's life. That's how I started out the ministry. I didn't start out by thinking I was going to change the world because I know I can't change the world…I know one pair of socks isn't going to change a person. It's not going to change their entire life – but it will change their day…That's all I've ever wanted to do – make one difference in one person's life."
Through all the work she does, Shannon never forgets the inspiration behind it – the loss of her beloved friend Fr. Mychal Judge: "He's the one who truly made me realize that in every ending, there's a new beginning."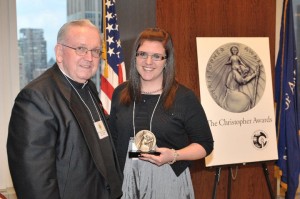 UPDATE: Since this piece was originally written, Shannon has graduated from college and now works in the nonprofit sector. Along the way, she also won a Christopher Award in 2011 for founding "Mychal's Message." Her family was hit by some health problems in recent years, though, which limited their outreach efforts. They do, however, continue as this update from their website explains:
This year's "new project" is really an "old project" with a "twist." A twist of fate has changed the lives of these Mychal's Messengers. The first thing you must have noticed is the date of this mailing. Our newsletter is late. Serious health issues have fallen upon us. Our hearts and minds are still on breadlines and in soup kitchens. Our thoughts are still of September 11 and our fallen heroes. We still cringe knowing just one of God's children is in need of such basic items as socks and underwear. We want to be able to follow Father Mychal in his quest to follow Our Lord. So, our days have been filled with lab tests, doctor visits, operating rooms, and pharmacy purchases. We have felt sadness and despair through these last eight months, but we have come through this stronger in our faith and eager to continue our work, the work Father Mychal would be doing, the work Mychal's Message does with great energy, love and joy.

Our project is "Blessed Bloomers"—underwear and socks for the poor. Our goal is to embrace our newfound good health and spread the word with great love and joy. So, this year, we call it Blessed Bloomers, with love and joy—part of the "new twist." The second part of the "twist" is that we will give these much needed packs of underwear over Christmas and not on September 11 this year. Instead, on September 7 we will walk with NYPD Detective Steven McDonald at the annual Walk of Remembrance in solidarity of all those killed on September 11, 2001. We will walk to each firehouse to honor their dead. And we will return home to begin packaging our "Blessed Bloomers," celebrating our thirteenth annual collection.

With newfound energy and joy, we will then go back to the streets before Christmas, and because of your generous donations, we will hand our packages of "Blessed Bloomers" to 400 men and women on the Breadline at St. Francis of Assisi Church in New York City, the sacred Breadline where this all began. So, please help us regain the energy needed to continue this work.

How You Can Help:
Your tax-deductible donation of $9.11 will provide a package of Blessed Bloomers. Each package will contain one boxer and one brief, one T-shirt, two pairs of socks, two mints, and of course, a prayer card.

You may also send new underwear, T-shirts or socks. Men's boxers are greatest need.

Online donations are accepted through Network for Good. Please click the link below and specify "Bloomers 13" in the "Designation" line on the Network for Good website.
Click the link if you'd like to donate.