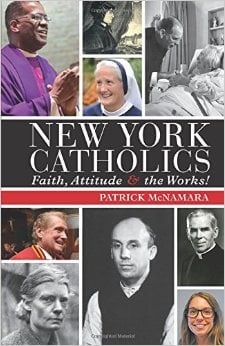 What do Regis Philbin, Dorothy Day, Deacon Greg Kandra, Archbishop Fulton Sheen, and I have in common?
We're among the 76 people profiled in author, historian and fellow Patheos blogger Pat McNamara's book "New York Catholics: Faith, Attitude, and the Works."
I'm not in that illustrious company because of anything I've done, but rather because Pat appreciates what The Christophers have meant – and continue to mean – to Catholic culture and culture in general.
In "New York Catholics," Pat serves as a historian who doesn't treat the past as a bunch of dry facts and figures. Instead, he makes it relevant by sharing the timeless stories of real people whose devotion to their faith led them to serve the poor, fight racism, battle anti-Catholicism, and build up the Church in America.
The first figure Pat highlights in the book is Sir Thomas Dongan, who lived in New York during colonial times and battled the bias against Catholics that was present in the city at that time. Actually, "bias" is too mild a word. Pat quotes Thomas Shelley, author of the history of the New York archdiocese, as writing, "Protestant colonists may not have been especially fervent churchgoers, and they were themselves divided into rival denominations. Yet there was one common element in their religious beliefs that united them, and that was a detestation of Roman Catholicism, or as they would have said, 'popery.'"
So where does Dongan come in? Originally a member of Ireland's Catholic aristocracy, England's Charles II appointed him governor of New York in 1682.
During an interview on "Christopher Closeup," Pat explained, "Dongan created a charter of liberties in 1683, which said that anyone who belongs to a Christian denomination has complete freedom. This is revolutionary. It had been done in Maryland in 1649, but Dongan was the first to do it in a Northern colony. And the charter was later amended to say all persons of any religion whatsoever [had freedom too], because New York did have a Jewish community: Sephardic Jews coming from Spain going back to the 1650s."
Pat notes that some Catholic authors argue that Dongan's charter influenced the Declaration of Independence and the Constitution, and simply promoted greater tolerance in American life. That didn't happen quickly or easily, though.
Into the 1840s and 50s, there were still want ads running in the newspaper that stated, "Neither Irish nor Catholic need apply." Members of the anti-Catholic Know-Nothing party were elected to office throughout the country – and there were even anti-Catholic riots that broke out in Brooklyn. So how did Catholics finally become accepted in their adopted home?
Pat says, "I think what happened was that eventually the Catholics just wore them down. They just kept coming! They kept building churches and schools…and the hospital system and old age homes…and they started these orphanages, where they welcomed children of all denomination or none, of all races, of all backgrounds. [At the time], you had denomination-specific orphanages, like Protestant-friendly orphanages and Catholic orphanages. But one of the great pioneers of Catholic childcare was a priest named John Drumgoole, who I talk about in the book. And John Drumgoole said I'll take any kid from any religion, background, race; I don't care. And he did. He created Mount Loretto in Staten Island, which at the time was the largest childcare institution in the United States."
Pat believes the reason Catholics were so focused on helping "the least of these" was because it was a gospel mandate. "I think also," he said, "that the Catholic immigrants who came over were 'the least.' First the Irish, the Italians, the many and the various groups that came after them. They were poor immigrants, and they weren't always treated very well. But rather than sticking it to the people above them, what they did was, they helped the people who came after them."
Though many Catholics looked out for each other, there were still some examples of discrimination within the faith. Venerable Pierre Toussaint, who was once a slave, experienced some of that.
Pat said, "He was welcomed by the Church, but there were exceptions. There were times when he, as a person of color, was turned away from Catholic churches. He was not blind to the existence of racism, even in a Northern city like New York, but he decided that to overcome it, [he would work] within the system if you will, giving his money to churches, to orphanages. He adopted several African American children, and even paid for the release from slavery of several more.
And how did Toussaint escape the bitterness of rejection that might afflict others in his situation? Pat explained, "I think Cardinal O'Connor said it very well when Pierre Toussaint's remains were entombed in St. Patrick's Cathedral; you know he's the only layperson currently to be entombed in the Cathedral crypt. Cardinal O'Connor said, 'If ever a person was truly free, it was Pierre Toussaint.' And this is what makes up a person of holiness. Rather than reacting with bitterness, he responded with kindness, with love, with charity."
Another prominent Catholic who transcended racial bias – and also practiced ecumenism before it was popular – was Father Sylvester Malone, who was ordained a priest in 1844. Not only did he reach out to Irish immigrants to make them feel welcome in their new land, he told them, "We've got newcomers who are Jewish. Now remember how you were treated when you came here. Let's reach out our hand to them, and let's make a difference for them."
Pat also pointed out that "Father Malone was something rare among Catholic clergy at the time: he was an abolitionist. And there is some speculation that he may have been involved in the Underground Railroad."
Reaching out to new immigrants and "the least of these" continues to be a focus of the Church in New York. Pat knows because he's seen it first-hand. Both in and around his home parish in Astoria and nearby Long island City, there are large Mexican and Central American populations. And one parish (Our Lady of Mount Carmel) holds masses in five different languages: Czech, Vietnamese, Italian, Spanish, and English.
How do so many different ethnic enclaves function under the big tent of Catholicism? Pat says, "Remember the word "Catholic" in its original Greek [means] 'universal.' While we celebrate the diversity of our Catholics, we also celebrate our unity. And what we have in common is a lot stronger than what keeps us apart."
The same holds true for the many contemporary figures Pat profiles in "New York Catholics." For instance, there's Sister Tesa Fitzgerald, who founded the program Hour Children which offers help and hope to incarcerated women and their children; Sister Margaret McCabe, who has served as a chaplain to inmates at Rikers Island for 30 years; and Mother Agnes Mary Donovan who founded the Sisters of Life.
The one thing all these people have in common beyond their Catholicism is their love of their work and vocation. Perhaps one of the best examples of that kind of dedication is Monsignor Gerald Ryan of St. Luke's Church in the Bronx.
Though he passed away at age 93 shortly before the publication of "New York Catholics," Monsignor Ryan was a priest who shunned the idea of retirement because he loved his ministry of serving God's people.
Pat recalled the day he went to interview Msgr. Ryan: "I was sitting in the rectory with a line of people waiting to see him on a Friday morning. And I remember talking to the secretary, Madeline, and I said to her, 'Have you known him long?' And she said, 'Oh yes, since we moved into the parish. He's like my dad.' And he was like a father figure, a friend, a brother to the people of Mott Haven. He was known as the mayor of 138th Street. Stats show that priests and women religious tend to be very happy people. Research has [also] shown that people who keep themselves going doing meaningful work into their later years of their life, have a happier and fuller, more meaningful existence."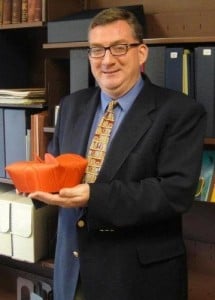 Though Pat's book is called "New York Catholics," he believes it transcends location: "I think when we celebrate one area, we celebrate all areas. This is not a chauvinistic book. It's just showing the good that's being done in one particular place. And you know what? If somebody wanted to write a book 'Chicago Catholics,' or 'San Francisco Catholics,' they could because there are so many good things going on right under our noses that we don't always know about, that doesn't always get publicity…I think [writing this book] strengthened my own faith life. It gave me a lot more to be thankful for, to be mindful of, and be aware of. There are so many good people doing good things out there that don't get attention."
(To listen to my full interview with Pat McNamara, click the podcast link):