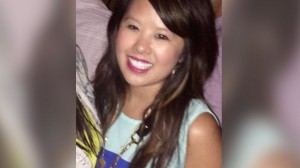 Biographical details about Nina Pham, the Texas nurse who contracted Ebola while caring for patient Thomas Eric Duncan, are slowly emerging. Today's New York Times reveals some of her religious background.
Since local officials announced Ms. Pham's positive test early on Sunday, the news has resonated through circles of friends who worked with Ms. Pham or studied nursing with her at Texas Christian University, and through the Vietnamese community in Fort Worth, where she grew up. In interviews and news reports, friends have described her as a compassionate and caring nurse who loved her job, was grounded by her Catholic faith and cherished her King Charles spaniel, Bentley, named for her old neighborhood….

…The daughter of political refugees from Vietnam, she grew up in the Bentley Village subdivision of Fort Worth, in a large red-brick home that her family built in the mid-1990s, said a next-door neighbor, Jim Maness. Neighbors said that the family was exceedingly private and quiet.

Ms. Pham attended the accelerated nursing program at Texas Christian in Fort Worth, and graduated in 2010. Ashlee Mitchell said she bonded almost instantly with Ms. Pham in classes there. Not long after they met, she said, "we were best friends."

Ms. Pham and her family were active at Our Lady of Fatima, a largely Vietnamese Roman Catholic church, said Tom Ha, the church's education director. Because the family prizes its privacy, he said, congregants are meeting in small groups, rather than large gatherings, to pray for Ms. Pham. Christina Mykhanh Hoang, a church member, said Ms. Pham's mother had simply asked friends "to continue to pray."
The Star-Telegram interviewed family friend Father Jim Khoi of Our Lady of Fatima Catholic Church in Fort Worth, and other members of the congregation for more details on Nurse Pham's condition:
The young nurse infected with Ebola in Dallas — a Texas Christian University graduate with deep roots in Fort Worth —received either a transfusion or an injection of blood serum from an Ebola patient who survived, said a priest at her church Monday.

The Rev. Jim Khoi of Our Lady of Fatima Catholic Church in Fort Worth, said Nina Pham's mother told him the donor who helped was "a very good guy who flew to Dallas." Pham, 26, is the first person known to have contracted the disease while in the United States…

…Khoi said the mother, Ngoc Pham, told him she has seen and spoken to her daughter using Skype, and that she is in good spirits.

Members of the congregation had a prayer session for Nina Pham Sunday, said Tom Ha, a Haltom City insurance agent who attends the same church.

"She is in stable condition right now. It's not in critical condition," he said. "But the news is very, very scary. We don't have a lot information. I was frustrated at the failure of the medical system. How could it happen, especially at a hospital where they knew the man had Ebola? I think it's because the disease is so new, and really the hospital and the CDC didn't take it seriously enough."

Nina Pham graduated from TCU in 2010 and moved to Dallas, where she got a job as a nurse at Texas Health Presbyterian. Her identity was confirmed by officials at TCU, as well as Nolan Catholic High School, her alma mater.

The Rev. Khoi indicated that Pham's mother is staying at a hotel near Texas Health Presbyterian.

The nurse is a 2006 graduate of Nolan Catholic, according to Pat Svacina, spokesman for the Catholic Diocese of Fort Worth. She attends the same Catholic church on East Lancaster Avenue in East Fort Worth as her mother,

"The Catholic Diocese of Fort Worth and its parishioners pray for the nurse that has been affected with Ebola and for her family and associates," Svacina said in a statement. "If the need arises, the Diocese will cooperate fully with the appropriate civil authorities."
Yahoo! News reports:
Texas Health Presbyterian Hospital Dallas released a statement on Nina Pham's behalf Tuesday. The comments were her first since she became infected with Ebola while caring for a man from Liberia who later died of the disease.

"I'm doing well and want to thank everyone for their kind wishes and prayers," Pham said.

The CEO of the hospital also put out a statement in which he said doctors and nurses "are working tirelessly to help her in this courageous fight. The doctors and nurses involved with her treatment remain hopeful."…

…The Rev. Jim Khoi, pastor at Our Lady of Fatima, said Ngoc Pham had spoken via video chat with her daughter and that she appeared to be in good spirits.

Pham's mother "says she's doing well," Khoi said. "She's calm. She trusts in God. And she asks for prayers."

Khoi described the family's relief that a recovered Ebola patient, Dr. Kent Brantly, provided a blood transfusion, calling it "golden blood."
Pham's alma mater, Nolan Catholic High School, will reportedly hold a prayer service on her behalf this Thursday Oct. 16. I'm sure we all join our prayers with their for her recovery.
RELATED:
– "Power in the Blood" by Simcha Fisher