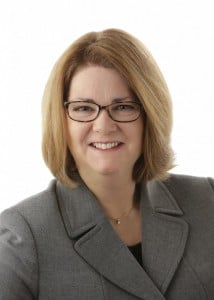 Lisa Hendey admits that she's been a "control freak and Type A personality" in her past – and still occasionally is today. But when the blogger, author, speaker, and CatholicMom.com founder looked back on her life, she realized that some of her greatest accomplishments came not when everything went according to her plans, but rather when she surrendered to God's will.
That epiphany is part of the motivation for her latest book, "The Grace of Yes: Eight Virtues for Generous Living."
While Lisa's past books have been geared toward Catholic moms, she revealed on "Christopher Closeup" that this one reflects an "intentional pivot in my writing" to appeal to a more general audience. This is partially because she and her husband Greg now find themselves "relatively new empty nesters" whose kids have moved out of the house. With the immediate concerns of motherhood not as present as they used to be, she opened herself to the idea that God could be leading her in a new direction.
That process of discernment isn't always easy, but Lisa's commitment to nurturing her faith keeps her going. She said, "The first thing is to spend time daily in the Word and be closely connected to the Eucharist. When we are regularly in the Gospel and regularly receiving the sacraments, life just seems to go more according to the way we hope that it would go. And I know in my heart that when I struggle with those disciplines or those graces, everything else struggles. I have days where I think, 'That's it! I just want to hang up my laptop and go shoe-shopping like other women!' [But then] I try to find an adoration chapel or my rosary beads and get myself into a position where I can better discern what's happening."
Stop Comparing Yourself with Others
One of the ways in which Lisa learned to say 'yes' to God is by not comparing the way her family practiced their Catholic faith with the way that other families did.
This was especially true when she was a young mother: "[I was] the mom in the pew with the two screaming little kids. Then [I'd] look around and everyone else's family was beautifully dressed and they were all there ten minutes early. I was just struggling to get there and keep both kids quiet in the pew. It was not pretty! I just became so frustrated by looking around and saying, 'Why aren't we like XYZ family?' And at a certain point I realized, 'Wow, God made our little domestic church just as it is. We're doing our very best to love Him, to know Him, to share Him with others. And I have to stop this judging that I do of myself, because that's not of God. It's not of God.'"
Lisa has also come to realize the wisdom of that approach in her personal life, especially in regard to her husband Greg, who converted to Catholicism 10 years ago.
She writes, "For me, the most daunting challenge in our marriage has been the discrepancy in how we each express our faith. A cradle Catholic who never questioned God or his centrality within my Church, I met and married a nominally-raised Protestant not truly committed to any faith tradition. But I'm almost wise enough now to recognize that because we love our God differently – and perhaps more importantly, that we express that love differently – doesn't mean that one of us was or is right and the other wrong. We are different, that's all."
The Grace of No
Though Lisa's book is entitled "The Grace of Yes," she also includes a chapter called "The Grace of No." Considering that she has written several books, is the editor of CatholicMom.com, serves as the technology contributor for EWTN's SonRise Morning Show, and blogs at Patheos and numerous other sites, it seems like Lisa rarely said no to any opportunity that came her way. Instead of an "impulse buyer," I suggested to Lisa that she might have been an "impulse committer." But that has changed.
She explained, "I think this happens a lot with people of faith. It's tied in with wanting to serve those around us. At a certain point, we have to ask ourselves whether the helping that we're doing is hindering other people. If our kids are eating Happy Meals in the back of the minivan every night while we're volunteering at church, is that really serving our primary vocation?"
Lisa continued, "I'm trying to realize in my own life when a 'no' is actually part of a productive 'yes' to God's will for my life. That means giving myself permission to say to someone who invites me to do something, 'May I take a few days to prayerfully discern this?' Then it's a process of checking that against, 'What's my primary vocation in life? What are my primary goals?' And those are salvation for myself and my family. How does this project enhance that or detract from that? I realized a few years ago that asking somebody to have the time to pray about something is really important. And part of that, too, is being in tandem in a marriage and discussing with my husband how things fit. I don't do that over every little opportunity that comes along, but with big ones, there's a process of figuring out how all the pieces fit together."
Lessons from Rwanda and Beyond…
One of the biggest recent decisions in Lisa's life was traveling to Rwanda with Catholic Relief Services on a journalism fellowship. It was the 20th anniversary of the Rwandan genocide in which close to one million people were murdered, often in "neighbor-on-neighbor" violence.
Lisa recalled, "We were meeting with genocide perpetrators and survivors and reconciliation groups to look at how they've moved forward as a society and found forgiveness. When I would listen to them discuss the ability to strive for forgiveness, it made me realize how many things I carry around in my own heart that separate me from union with God. I'm sometimes carrying these burdens of terrible grudges against people who don't even know that I'm angry with them! And when I do that, when I refuse to give forgiveness, it doesn't hurt the other person, it hurts me and my relationship with God. The other piece of it for me was – if these people in Rwanda can forgive the unforgiveable, how amazing is it that there's a God who forgives me of all the things that I do. [I need to] avail myself of the sacrament of Reconciliation more frequently, and the great blessings that come with giving over our sins and being absolved of them."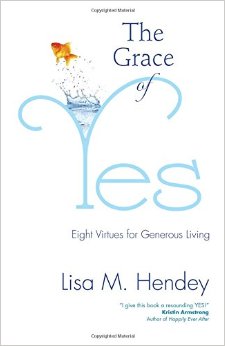 Lisa concluded with her hopes for people who read "The Grace of Yes:"
"I hope that they will be able to come closer in touch with their own relationship with a God who loves them so much that they can discover their own 'yes.' [I hope] that they will stop placing any limits around God's ability to do truly magnificent things in their lives when they give [themselves] over to Him. And in saying 'yes' to God, they can change their own little world around them."
(To listen to my full interview with Lisa Hendey, click on the podcast link):