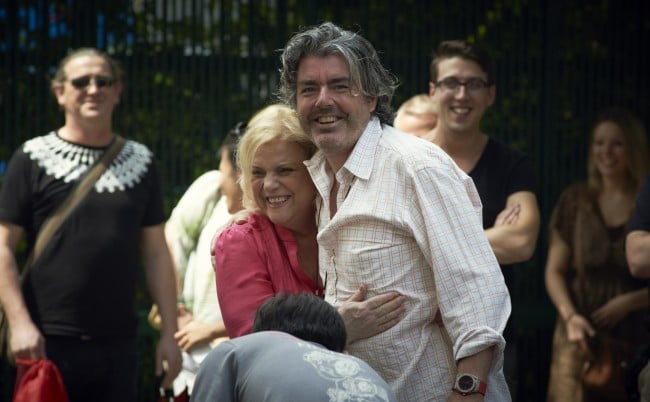 (Photo: Christina Noble with director of "Noble" Stephen Bradley. Courtesy Aspiration Media)
"I'll walk. You lead."
That's what Christina Noble tells God when she's trying to figure out what exactly He wants her to do for the orphan children of Vietnam in 1989 – and it reflects the unusual mission this humanitarian has taken since she was a homeless child in Ireland many years ago.
Americans may not be familiar with Noble's name yet, but that could change after the release of a biopic about her this Friday May 8th. Simply titled "Noble," it tells the story of how and why Christina became dedicated to saving the lives of street children in Vietnam (and now Mongolia as well). To date, her foundation has helped over 700,000 children.
It wouldn't be overstating things to say that Christina is engaged in a partnership with God throughout her life. This is despite the fact that the nuns in the church institution in which she lived as a child were often abusive. As a young adult, she winds up in another facility run by nuns after she becomes pregnant as a result of being gang-raped. While the nuns treated her well there, they also gave her child away for adoption without notifying her. In that sense, "Noble" is akin to the film "Philomena," which dealt with a similar storyline – though Christina never tries to find her son the way Philomena did.
From a faith perspective, Christina's relationship with God remains a constant, even when it's a struggle. Her visits to Catholic churches are frequent. And in the scene following her discovery that her son was given away, she expresses both faith and frustration. She tells God, "I don't know what to say to you, except now we both know what it's like to lose a son. I'm not being blasphemous. I'm not comparing myself to you. It's just that if I stop believing now, I won't be able to keep going. I won't survive. I hope you're gonna explain this to me very bloody soon, so until then you're gonna have to listen to me swear and curse and shout and I won't be asking for your forgiveness. Sorry about that."
Despite Christina's issues with God, she wholeheartedly believes he has a plan for her and she is willing to step out in faith to find what it is. Hence, her aforementioned declaration, "I'll walk. You lead."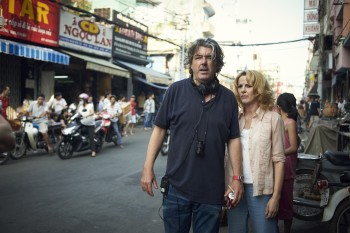 "Noble" was directed by Stephen Bradley and stars his wife, actress Deirdre O'Kane, as the adult Christina. Despite the serious subject matter, the film also includes humor and music that reflects the personality of the real Christina Noble, who is quick with a joke and loves Doris Day songs.
I recently had the opportunity to conduct an interview via email with director Stephen Bradley about the movie. Here's what he had to say.
Tony Rossi: What attracted you to Christina Noble's story enough that you wanted to share it with the world?
Stephen Bradley: My wife Deirdre O'Kane who is very well known as an actress and stand-up comedian in Ireland had read Christina's book A BRIDGE ACROSS MY SORROWS and had done some fundraising for The Christina Noble Children's Foundation. So it was she who said to me that we should consider asking Christina if we could have the rights to make a film. We both agreed that it is such an extraordinary and inspiring story that it just had to be told on screen.
TR:
Though Christina often seems alone in the world, she also has – what I would call – a partnership with God. Like a lot of partnerships, the parties involved can get angry with each other – or at least Christina gets angry with God. How did her Catholic faith sustain her during the painful experiences of her youth and ultimately guide her in her mission to help the orphans of Vietnam?
Stephen Bradley: Christina has a mixture of orthodox faith which comes from her Irish Catholic upbringing and also a strong idea that she has a direct connection with God. This is seen several times in the film as she appeals to Him for help and each time her story takes a surprising twist or turn.
TR: When Christina arrives in Vietnam, she sees all these nameless, homeless children that society largely ignores. At the hotel, the clerk tells her his name is "Mr. Reception Desk." In both instances, the atmosphere is very depersonalized. People seem to be "labels" instead of three-dimensional human beings. How did Christina bring a touch of humanity to that environment?
Stephen Bradley: Well I like to think that the sarcastic humour of that scene is the start of a touching relationship between them and ultimately Mr. Reception Desk becomes one of the heroes of the film in the help he gives to Christina. So Christina's humanity works in lots of ways through deep compassion, fearlessness, a sense of humour, and a love of music. She uses all of these to break down the barriers in front of her.
TR: Considering what Christina went through, she could have become very embittered by life. Yet she chose to retain her sense of compassion and be a blessing for others. What quality or qualities do you think made Christina better instead of bitter?
Stephen Bradley: Christina has seen so much hardship in her life that her compassion spikes when she sees others who are presently going through similar circumstances. She has an uncanny ability to trust her faith and always find a bright future around every corner. She encourages many people to help her on this journey.
TR: Does Christina still harbor hopes of reuniting with her son Thomas some day? Are there hopes this movie might make that possible?
Stephen Bradley: Christina believes that she possibly met the adult Thomas at a book signing. The story is described in her second book MAMA TINA. But it was only a fleeting moment – unconfirmed – and she isn't sure it was him. She would of course be overjoyed if she was reunited with Thomas but I don't think she has any unrealistic expectations that the film will deliver of itself such a reunion after all these years.
TR: Did you and your wife Deirdre get to meet any of the kids Christina has helped in the past or is helping now?
Stephen Bradley: Yes, absolutely, most of the children acting in the film are from the Christina Noble Children's Foundation in Saigon so they completely understood all aspects of the story we were telling because many of the same experiences had happened to them. They were wonderfully talented and a joy to work with.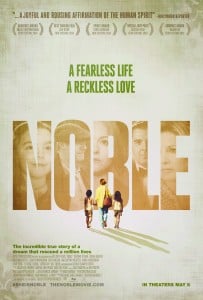 TR: The work of The Christophers reflects the old Chinese proverb, "It's better to light one candle than to curse the darkness." How does Christina's story reflect that concept?
Stephen Bradley: Well that proverb is a call to action and that sums up Christina completely – she is a woman of considered, careful and passionate action who has achieved extraordinary victories in her life for those around her, by sweeping back the darkness with her personality and talent.
"Noble" opens on Friday May 8, 2015.