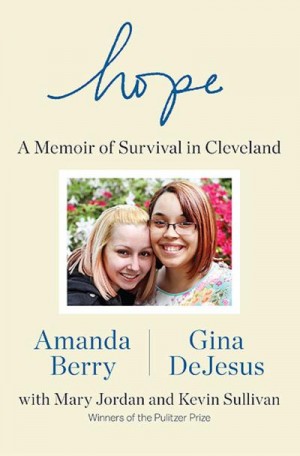 Considering that Amanda Berry and Gina DeJesus were kidnapped, held hostage, abused, and repeatedly sexually assaulted by Cleveland school bus driver Ariel Castro for 10 years, it might seem odd that they named the memoir about their experiences "Hope." But that is the word that perfectly describes these two young women who endured more darkness than most of us can fathom by relying on their faith in God and the unexpected light that was brought into their lives by Amanda's daughter Jocelyn, a child of her rape by Castro.
Amanda, Gina, and Michelle Knight were all over the news two years ago when they finally escaped from Castro's house of horrors. Since people are always asking them to tell their story, Amanda and Gina wanted to put their definitive version in book form so they wouldn't have to repeatedly relive the experience.
As a result, they recently authored the book "Hope: A Memoir of Survival in Cleveland," with help from Pulitzer Prize-winning Washington Post journalists Mary Jordan and Kevin Sullivan (who were Christopher Award winners for their 2006 book "The Prison Angel: Mother Antonia's Journey from Beverly Hills to a Life of Service in a Mexican Jail"). Jordan and Sullivan joined me on "Christopher Closeup" to discuss this horrific, yet ultimately inspiring story.
Amanda and Gina, they recalled, were just 16 and 14 when Castro lured them into his home (months apart) under the guise of visiting his daughter, who the girls knew from school. In Amanda's case, he started raping her immediately, after which he bound and gagged her and carried her into the cold, dark basement where he chained her to a pole. The abuse and rape became a daily occurrence with psychological torture thrown in as well.
Castro would make Amanda watch the news, where she would witness her mother's crying pleas for her return. Amanda asked him how he could put her family through such pain, but Castro responded that he felt nothing. Sullivan explained, "At some point, Amanda heard the word 'sociopath' on television and she looked it up and said, 'That's exactly him.'"
Yet Amanda refused to let her spirit be crushed. As she told Jordan and Sullivan, during the early days of her captivity, she thought about killing herself. "But if I do, he wins," Amanda concluded – and she wasn't going to let that happen.
That spirit of defiance was nurtured by Amanda's belief in a higher power. She writes, "I never went to church much, but I know there is a God, and I know he must have a different plan for me than this."
Jordan explained that Amanda "found a little candle with a picture of Jesus on it in the basement, and she would light it and pray." Sullivan added, "She also found a drawing of Jesus in the basement. Castro was a real hoarder so she found all kinds of stuff. [The picture] became a lifeline for her. She put it up beside her bed in the room [to which Castro eventually moved her], and it became a source of strength and hope for her."
Another thing that helped Amanda deal with her emotions and mental state was the fact that Castro allowed her to keep a journal. While she could never write anything too critical of him because he would read it, the act of writing was somewhat therapeutic in addition to helping her document the details of what was being done.
For years, Castro worked to develop mistrust between the girls. Sullivan explained, "He was an incredibly manipulative guy. He would tell Amanda that Gina and Michelle were saying terrible things about her, and then he would tell them that Amanda was saying bad things about them. Weeks go by and months go by and you keep hearing this and you start to believe it. So they could never trust each other enough to band up against him and try to kill him or do something because he manipulated them so thoroughly."
The one thing that changed the environment in the house for the better was when Amanda became pregnant. She saw the new life inside her as another sign of hope, and it bonded her with Gina and Michelle who were also able to find joy in the life of this innocent child.
Surprisingly, the baby – who Amanda named Jocelyn – changed Castro as well. Sullivan said, "The baby made him happier, and when he was happier, everyone was happier. The girls could see him enjoying being a father. He treated her so well that things just got a little lighter in the house. And Jocelyn, in a lot of ways, saved them from years of even worse torture."
Jordan added, "When [Castro] took the chains off Amanda, he only took them off because [Jocelyn] was starting to get old enough and ask, 'Mommy, what's that?' For a while, she would try to deflect and say, 'Oh, it's a bracelet,' and she'd hide it with a blanket. But Castro didn't want his daughter, who he did love, to realize the insanity of what was going on there, so he took them off. But the ghost of those chains was still there, because there was always the threat of, 'I'll put them back!'"
Jocelyn also got Amanda thinking about the future again. She dreamed of going to the lake with her daughter and flying a kite and getting an ice cream cone. Those dreams left her primed to go when the opportunity for escape finally came.
On May 6, 2013, Jocelyn opened the door to Amanda's room and said, "Daddy's gone." Amanda couldn't believe it because, in 10 years, he had never left the house with the girls' bedroom doors unlocked. But this time, he slipped up. Amanda ran downstairs, unlocked the inside door and, with the help of passersby, got the storm door open. The three girls who had been missing for 10 years were now young women who had achieved their long-awaited freedom.
Jordan said, "One of the first things Gina did when she got out, having been through hell for so long, she went to church, lit a candle, and said a prayer for all the other missing girls [in the world]."
Two years have passed since that fateful day. Sullivan describes Amanda and Gina as full of optimism. Jordan adds, "You can come out of really difficult things either bitter and broken – or hopeful and looking forward to the next day. When they wake up, they are so happy to be young and free and loving life…They're going to finish high school…Gina is going to go to New York and she hopes one day maybe she can have a little store selling clothes. Amanda had a gift for teaching. I wouldn't be surprised at all if she does that. And both of them want to be advocates for other missing kids."
In addition, Jordan describes Jocelyn as "beautiful and vibrant and smart. I think Amanda inside, she said, 'I'm not looking as though she is [Castro's] child. She is my child.' And she is. They're extremely close and Jocelyn is a marvelous, infectiously happy little girl. It's one of several miracles of this story."
(To listen to my full interview with Mary Jordan and Kevin Sullivan, click on the podcast link):