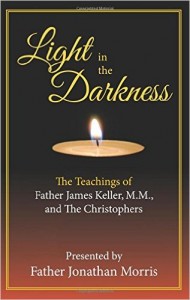 When Father Jonathan Morris started doing some work on behalf of The Christophers, he noted that he was a longtime fan of our message and mission encouraging individuals to light a candle rather than curse the darkness. That mission, of course, was started by Father James Keller, M.M. in 1945.
Father Keller wrote a lot of stories to emphasize the power of his approach, stories that still resonate today and encourage others to do the same. That's the reason Father Jonathan has written new introductions to Father Keller's writings and compiled them in a book called "Light in the Darkness: The Teachings of Father James Keller, M.M., and The Christophers."
Watch the video below for more details and click here to buy "Light in the Darkness" or The Christophers' new "Three Minutes a Day" book (Volume 50).
RELATED: An Ideal Book for the Overly Busy, Those with Spiritual ADD, and Everyone Else, Too