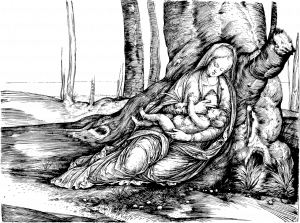 Introduction
A few days ago, I had an image of the major events in the life of Mother Mary and her son, Jesus. So, I grabbed a bunch of Gospel passages, arranged them chronologically, edited them very slightly and wrote them as if they were entries in Mary's journal. Here's how it came out.
Entry #1
In the sixth month the angel Gabriel was sent by God to my hometown, Nazareth. I was a virgin engaged to a man whose name was Joseph, of the house of David. My name is Mary. And he came to me and said, "Greetings, favored one! The Lord is with you." But I was much perplexed by his words and pondered what sort of greeting this might be. The angel said to me, "Do not be afraid, Mary, for you have found favor with God. And now, you will conceive in your womb and bear a son, and you will name him Jesus."
Entry #2
So, Joseph and I went up from the town of Nazareth in Galilee to Judea, to Bethlehem the town of David, because Joseph belonged to the house and line of David. He went there to register with me, who was pledged to be married to him. I was expecting a child. While we were there, the time came for the baby to be born, and I gave birth to my firstborn, a son. I wrapped him in swaddling clothes and placed him in a manger, because there was no guest room available for us.
Entry #3
When the time came for the purification rites required by the Law of Moses, Joseph and I took him to Jerusalem to present him to the Lord. Now there was a man in Jerusalem called Simeon, who was righteous and devout. Moved by the Spirit, he went into the temple courts. When we brought our child to do for him what the custom of the Law required, Simeon took him in his arms and praised God. Then Simeon blessed us and said to me, as the child's mother: "This child is destined to cause the falling and rising of many in Israel, and to be a sign that will be opposed, so that the thoughts of many hearts will be revealed. And a sword will pierce your own soul too."
Entry #4
Every year Joseph and I went to Jerusalem for the Festival of the Passover. When Jesus was twelve years old, we went up to the festival, according to the custom. After the festival was over, while we were returning home, our child Jesus stayed behind in Jerusalem, but we were unaware of it. Thinking he was somewhere in the group, we traveled on for a day. Then we began looking for him among our relatives and friends. When we did not find him, we went back to Jerusalem to look for him. After three days we found him in the temple courts, sitting among the teachers, listening to them and asking them questions. Everyone who heard him was amazed at his understanding and his answers. When we saw him, we were astonished. I said to him, "Son, why have you treated us like this? Your father and I have been anxiously searching for you." "Why were you searching for me?" he asked. "Didn't you know I had to be in my Father's house?" But we did not understand what he was saying to us.
Entry #5
Then Jesus entered a house, and again a crowd gathered, so that he and his disciples were not even able to eat. When our extended family heard about this, they went to take charge of him, for they said, "He is out of his mind." Then his brothers and I arrived. Standing outside, we sent someone in to call him. A crowd was sitting around him, and they told him, "Your mother and brothers are outside looking for you." "Who are my mother and my brothers?" he asked. Then he looked at those seated in a circle around him and said, "Here are my mother and my brothers! Whoever does God's will is my brother and sister and mother."
Entry #6
On the third day of the week, a wedding took place at Cana in Galilee. I was there, and Jesus and his disciples had also been invited to the wedding. When all the wine had run out, I said to him, "They have no more wine." "Mother, why do you involve me?" Jesus replied. "My hour has not yet come." But I overrode him and said to the servants, "Do whatever he tells you."
Entry #7
So, the soldiers took charge of Jesus. Carrying his own cross, he went out to the place of the Skull (which in Aramaic we call Golgotha). There they crucified him, and with him two others—one on each side and Jesus in the middle. I was standing near the cross as well as my sister, Mary the wife of Clopas, and Mary Magdalene. When Jesus saw me there, and the disciple whom he loved standing nearby, he said to me, "Mother, here is your son," and to the disciple, "Here is your mother." From that time on, this disciple took me into his home.