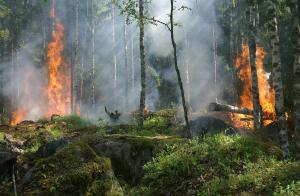 Today – August 18, 2021 – is an anniversary of sorts. Because on August 18, 2020, I was forced by the Walbridge Fire in Sonoma County, California to evacuate my home in Tír na nÓg. For twelve very stressful days, I wondered if I would have a home to go back to. The smoke was so dense that not even the Fire Department of Geyserville could tell me if it had survived. Before my hasty departure, I'd set a 110-year-old statue of the Virgin Mary – which had originally belonged to my great-grandmother – in the window of my bedroom facing the oncoming inferno. I said, "You're in charge, Mary, please protect my home!" I live on a mountain top, in the middle of a forest of oak trees, redwoods, madrona and manzanita. When I finally returned everything, in front of my house, and behind it – including my propane tank – and on both sides was destroyed, but my house was in pristine condition. I immediately went upstairs to my bedroom and hugged my Protectress.
I actually had to 'chain saw' my way home, as the dirt road leading to my house was a tangle of fallen trees. Once I had settled back in and had time to survey the damage to the forest, I used my cell phone to make a photographic record of the changes Nature had wrought. To my surprise, I discovered She had used the fire to create some extraordinary art. So, I wrote the following poem to honor her genius.
I
A little leaf with liver spots
landed on my sandal.
"Come follow me", it beckoned,
as it held aloft a candle
II
Then began a forest tour
throughout the eve and morning.
She pressed her fingers to her lips.
"Be silent" was her warning.
III
She opened up my mystic eye
and led me through the valley.
She counted off the silent trees
as I was keeping tally.
IV
She parted Nature's many veils
and whispered in the stillness,
"I want to show you fiery art,
and how to cure an illness."
V
She pointed out the stoic dead,
the hollowed trunks of oak trees,
the blackened, bark-less, head-less stumps
and their mourning, wailing Banshees.
VI
But out of each a spirit rose,
the incarnating Soul-self,
the blueprint of its future form
practicing its Role-self.
VII
For Gaia plays with ancient arts
and so does Pachamama,
they color in the empty frames,
creating panorama.
VIII
Wildfires do as Shiva does,
reframing all the pieces,
sprouting green where there was grey,
and blessing as she pleases.
 IX
From out the ash does Phoenix rise,
like Christ's own resurrection,
ascending with the morning sun,
bestowing benediction.
X
We now await a Pentecost,
the Paraclete descending,
a tongue of fire on every head,
so we can stop pretending.
XI
Then all shall speak a single tongue,
dissolving Maya's fear-trance,
and holding hands across the globe,
join in heaven's love-dance.