The online life is still a real life
I am online a lot. A lot. I spend a significant portion of my week either writing, sharing my writing, or connecting with people through social media and texting. I also consume a lot of media– television, movies, music, literature, news, podcasts; you name it and I've probably at least heard of it, if not have consumed some of it, or I'm a big fan of it. But these are really just more ways of connecting with people, society, and culture, and that is important to me. For as long as I can remember, I've wanted to connect with people– through speech and conversation, through writing and storytelling, through entertainment. Some sort of relationship with people has always been the forefront of my thoughts and actions.
In a certain way, this is what God wants with us, too. He wants to connect with us through creation, His Word, Himself, and through other people and, because of this, it is very important to love one another in all things we do or say. This is, after all, the second greatest commandment Christ gives us: "You shall love…your neighbor as yourself" (cf. Luke 10:25-28). St. John expounds further upon this when he writes, "If anyone says, 'I love God,' but hates his brother, he is a liar; for whoever does not love a brother whom he has seen cannot love God whom he has not seen. This is the commandment we have from him: whoever loves God must also love his brother" (1 John 4:20-21).
It follows, then, that we must use media to love another and cultivate virtue within ourselves
The opening paragraph's of the Second Vatican Council's document Inter Mirifica recognizes the gift of social media, especially "the press, movies, radio, television and the like" (1) for their impact on our minds. IM also calls the laity to use these mediums well, stating in paragraph 3 that the laity must "instill a human and Christian spirit into these media, so that they may fully measure up to the great expectations of mankind and to God's design." Just as Christ used the popular forms of communication in His day, so, too, must we use the tools of our age to the best of our ability to spread the Good News and to become more virtuous.
Shaun McAfee in his new book Social Media Magisterium: A No-Nonsense Guide to the Proper Use of Media, recounts a recent story about a parish using social media to invite baseball fans to mass at their parish, which was en route to the baseball stadium. The parish recognized its audience– baseball fans on the way to a game– and chose the most effective way to communicate with these people– social media. The parish advertised their new mass time before the game on social media and it went viral. Mass attendance at this time before a baseball game soared so much that the pastor recognized for future seasons that one mass before a game might not be enough.
This parish's use of social media is a great example of using the medium to spread the love of God and reach out to those who might not otherwise be aware of or attracted to the Gospel. Something simple and sometimes banal can lead us to the sacramental. Something simple and sometimes even banal can lead us to Christ.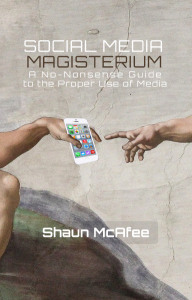 The Church has a history of challenging and inspiring people to consume and create good media
In 1936, Pope Pius XI wrote the encyclical Vigilanti Cura pointed at the motion picture industry and called on the faithful to only consume and create motion pictures that elevate the Faith and inspire viewers to virtue. In it, Pope Pius XI writes:
It is urgently necessary that all progress made, by God's favor, in human learning and technology actually contribute to God's glory, the salvation of souls, and the spread of the Kingdom of Jesus Christ, sin such wise that we may all, as the Church bids us pray, 'so pass through the things of time that we may not lose those things that are eternal (28).
I'm fascinated by movies and television so this reminds me that I must be careful in what I consume. I must make sure that what I consume doesn't lead me to sin nor bids me to continue in vice. This may look different person to person (we all struggle with different things and have different weaknesses) so it is important to cultivate a good moral conscience so we may discern for ourselves what would be good to consume or create.
Pope Pius XII in 1957, wrote the document Miranda Prorsus with the intention of it being a more detailed companion to VC and Pius XII reverences technology as a "gift from God" (1). Shaun McAfee says of this document, that it "contains vivid language about the interest, purpose, and use of media for the faithful. The document declares that the primary interest of adopting the new media is to fulfill the Church's mission to preach Christ to all nations" (McAfee, 10). This document expanded on the goodness and proper purpose of social media.
Through these documents, and others, the Church lays out how we are to communicate with each other and use the media of our age to bring the love of God and the Faith to all the world. In a Church that sometimes feels outdated or behind the times, it's comforting and inspiring that she has been walking this with us and teaching the faithful about it all along and that she places media in such high esteem.
Not only does the Church herself use and promulgate the use of media, but many within the Church have seen its necessity, as well. The two most influential in this area must be Ven. Fulton Sheen who used radio, television, and even cassette tapes to spread the Gospel, and Bl. James Alberione who co-founded the Daughters of St. Paul (known online as the Media Nuns) and 10 other religious institutes that constitute the Pauline Family, whose mission it is to use "media and technology to communicate with and influence the faithful all over the world" (McAfee, 28). Other obviously influential players in the world of Catholic media are Mother Angelica and Pope St. John Paul II among many others who faithfully use social media.
Media must portray the truth and this will look different according to different mediums and for different people
A man I know posted on Facebook once that the Netflix show Stranger Things was terrible and he wouldn't allow his teenage sons to watch it anymore. The issue that lead to this strong denunciation? A scene in the second episode of season 1 when one of the main characters has sex with her boyfriend. It's fine that this man discerned for his family that this show was not for them. Sometimes, though, we miss a nuance that is important when consuming media of any sort (entertainment or social).
We cannot view things in isolation from the bigger story they are telling. Do many shows and movies employ sex scenes gratuitously? Unfortunately, yes. Does that mean that every sex scene in every show or movie is gratuitous and unnecessary to the plot or character development? Absolutely not. To tell the difference we must have a good moral grounding so as to separate the wheat from the chaff.
In this particular scene, it wasn't just about the characters having sex. Rather, the sex portion of the scene was set against the backdrop of the character Nancy ditching her friend Barb, who didn't fit in with the popular crowd, at the party to go hookup with her cool boyfriend Steve. Nancy was choosing popularity and image over a true friendship. Not only that, Nancy abandoned Barb which lead to Barb being snatched by the demogorgon. Nancy was devastated by the disappearance of Barb and spent the rest of the season trying to find her. She then spent all of season 2 trying to gain justice for Barb. It's a pivotal moment of character development for Nancy and something that leads to her struggles over two whole seasons. The sex scene was symbolic of what Nancy already struggled with and for which she had to face the consequences.
All that to say, it is good to know our own limits and to choose wisely and accordingly, but not everything that portrays vices and sins is actually promulgating the lifestyle those lead to. Listen to your conscience, but do not fall into scrupulosity.
As a blogger and writer, I hope to bring my readers both truth and entertainment
One of my favorite writers (who happens to be Catholic), Flannery O'Connor wrote about the duty of writers: '"The writer operates at a peculiar crossroads where time and place and eternity somehow meet. His problem is to find that location." Figuring out where time, place, and eternity meet is no small fete. It demands the best of writers and of consumers, and begs for transcendence from this world to the eternal but also for the eternal to come to earth. Writing is incarnational.
She also said, "There is something in us, as storytellers and as listeners to stories, that demands the redemptive act, that demands that what falls at least be offered the chance to be restored. The reader of today looks for this motion, and rightly so, but what he has forgotten is the cost of it. His sense of evil is diluted or lacking altogether, and so he has forgotten the price of restoration. When he reads a novel, he wants either his sense tormented or his spirits raised. He wants to be transported, instantly, either to mock damnation or a mock innocence." Flannery's stories were of the Southern Gothic style and not overtly Catholic, but they were imbued with the grace of God and told about people struggling with the acceptance of grace in their lives. They are largely entertaining and largely truthful.
This is what I strive for in my writings and in my online presence. However, there are some practical sides to blogging and writing well in an online age. Shaun McAfee lays these out nicely in his book Social Media Magisterium:
Do not wait for perfect conditions to start because they will never come.
Your media is about experience, aesthetics, and content and you need a balance of all three to be successful.
Fame is irrelevant when you're participating in something bigger than yourself.
Use care when writing– demonstrate good delivery, quality, and respect for the time of others.
Write something worth reading twice.
These tips help me to make truthful, engaging (at least, I hope so!) content and remind me of my purpose and responsibility.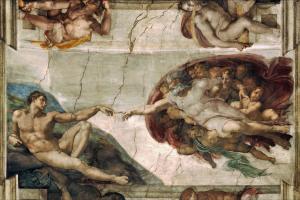 "Social media is like a digital battleground, and at the same time becomes the digital church, forum, and classroom." (McAfee, 125)
We need to use social media, all media, and all tools we have at our disposal in our day and age for the greater glory of God. Inter Mirifica instructs on the use of media for the good:
The Church recognizes that these media, if properly utilized, can be of great service to mankind, since they greatly contribute to men's entertainment and instruction as well as to the spread and support of the Kingdom of God. The Church recognizes, too, that men can employ these media contrary to the plan of the Creator and to their own loss (2).
A big part of this is recognizing that media is about community. It is about forming relationships with other people that lead both parties to grow in virtue. McAfee again hits the nail on the head in his book when he says, "It might be a profile that belongs to and describes you and who you are, but the media is not about you, or me. People might follow you, like you, connect with you, and friend you, but it's not about the individual. It's about community. It's about relationships. It's about personal encounters with each other" (130). And isn't this what the Christian life is all about anyway? Isn't this what God is about? God reaches down to touch and become humanity while humanity reaches up to connect with God.
We are gifts to each other from God and social media is a gift to help connect us. It is to our great benefit that we use social media and engage in and create good media that the world can rejoice in. To quote Flannery O'Connor one last time (today, anyway), "The Catholic writer, in so far as he has the mind of the Church, will feel life from the standpoint of the central Christian mystery; that it has, for all its horror, been found by God to be worth dying for."
I received a copy of the book "Social Media Magisterium" for the purpose of review. I highly recommend it!
Header image courtesy of  https://www.flickr.com/photos/hckyso/1849720506