St. Teresa Margaret of the Sacred Heart was once a picky eater.
She'd only eat what she liked and leave the rest, not complaining about the meal, but simply not finishing it. Once in Carmel, when she was sick and was having trouble eating, her mistress admonished her for not eating and walked away to attend to another duty. When her mistress returned, St. Teresa Margaret's plate was empty– she had eaten every bite out of obedience and love, even though it caused her pain.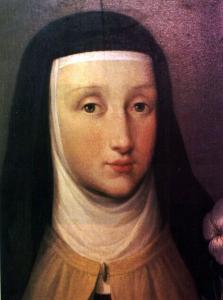 Discipline is the practice and habit of practicing virtue.
St. Teresa Margaret clearly possessed the virtues of temperance and humility and obedience but she had to discipline herself in these ways. What a great model! As this new year really gets underway, we are all looking to discipline ourselves in some way or another, whether that be treating our physical bodies better, taking care of our mental health, or any number of things. We need discipline to achieve these things and also to simply keep at them even when we want to quit.
I don't normally choose a resolution for a new year; rather, I choose a theme. This year I chose discipline. By choosing discipline, I've chosen to look at all areas of my life throughout the year and see where and how I need to grow. And I can start simply. Making sure I set aside time to pray in thanksgiving for my day before bed has been my first way. I've also identified ways I can flourish in my professional life and how to make that happen. I make sure to take my daily medications when I'm supposed to and eat a real breakfast every day so that I have the mental and physical energy to embrace the day. Building up the muscle of discipline is gradual.
Through discipline, St. Teresa Margaret of the Sacred Heart was able to cultivate virtue in her life.
Perhaps greatest among these was her humility. She never thought better of herself than anyone else and was among the first to recognize and amend her faults. She was dutiful in prayer and life and allowed this to conform her ever more closely to Christ. It has been said that her way of conforming her life to Love was a precursor to St. Thérèse of Lisieux's Little Way– this can certainly be seen in how she turned over her own physical pleasure for food and used mealtime as an opportunity to grow in obedience and temperance. She profoundly understood that God is Love and that she, therefore, owed everything in her life to Him in an offering of love.
Every penance she did, every service she performed, every movement she took, every thought she entertained was ordered towards loving God. When she was young, she would wear a hair shirt under her clothes and sleep on a hard board or on the floor as penance. She prayed often and did not allow school to take away her time for her devotions. St. Teresa Margaret also tried to blend in with her peers as much as possible, not draw attention to herself so that she would not be tempted to vanity or pride, which helped her excel in virtue interiorly. And she cultivated this all little by little and under a good spiritual director.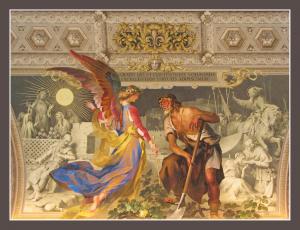 When she died, most of the nuns that had known St. Teresa Margaret remarked that she really was quite unremarkable.
She was a good sister and servant of God but they could not point to any exterior actions or the like that showed off her great virtue and holiness. It was not until her diary and writings were discovered that anyone realized the depth of her interior life. St. Teresa Margaret of the Sacred Heart, though very unremarkable by the standards of the world, was quite remarkable in virtue. God finally made visible her interior depth and beauty when, after she died, her body remained incorrupt and more beautiful and lifelike than she had during her lifetime. She remains incorrupt to this day and lays in the Monastery of St. Teresa in Florence, Italy.
This is the goal of discipline and of holiness, not to store up earthly grandeur but to forgo it for heaven. St. Teresa Margaret never felt cheated out of recognition in this life. She didn't want it! She wanted only God. One of my favorite quotes of hers is: "Without complaint, everything shall I suffer, for in the love of God, nothing have I to fear." She did not fear being overlooked or rebuked or cast aside. Neither did she fear pain nor death. St. Teresa Margaret knew God and knew Love and that was more than enough for her.
You can't be perfectly holy right out of the gate; you have to work at it.
After I get into a solid routine of praying in thanksgiving for my day each day, I'm going to start doing the Daily Examen again. Then when I've made that solidly part of my routine, I'll add ten minutes of dedicated prayer time during the day and then gradually increase that. I'll go to adoration as often as possible. I'll return to meditating daily.
Through these things, I hope to see myself and my actions more clearly so that I can reorder them towards God. I hope to make my life a living sacrifice to God, but I'm not ready to jump into the fiery furnace quite yet. I need to learn how to walk in Faith more steadily first. Discipline in virtue is what will strengthen me to do so. And through all of these little trials, I will continue to look to St. Teresa Margaret of the Sacred Heart for inspiration and guidance.
My God, I desire nothing save to become your perfect image; and since yours was a hidden life of humiliation, love and sacrifice, so also I wish mine to be. I desire to enclose myself henceforth within your most loving Heart as in a desert, so that I may live in you, and with you, and for you, this hidden life of love and sacrifice. (St. Teresa Margaret)
First image courtesy of https://es.m.wikipedia.org/wiki/Archivo:Teresa_Margaret_of_the_Sacred_Heart.jpg
Second image courtesy of https://www.flickr.com/photos/paullew/1791944584