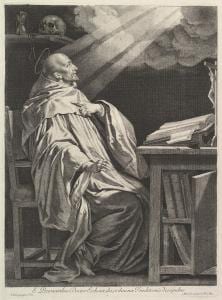 Bernard, what to say about him. My favorite thing about this great saint is that he composed my favorite prayer, the Memorare:
Remember, O most gracious Virgin Mary, that never was it known that anyone who fled to thy protection, implored thy help, or sought thine intercession was left unaided.

Inspired by this confidence, I fly unto thee, O Virgin of virgins, my mother; to thee do I come, before thee I stand, sinful and sorrowful. O Mother of the Word Incarnate, despise not my petitions, but in thy mercy hear and answer me.

Amen.
There is so much more to him than simply this, though!
Bernard was born in Burgundy, France to noble parents in the real-life castle of Fontaines near Dijon. His family was devout and sent him to college at a young age to study. Many, especially his teachers, noted his piety and recollection and Bernard succeed in his studies of theology and Scripture.
After Bernard's mother died, he decided to embrace the life of the newly established Cistercian Order. He also persuaded all of his brothers and several of his friends to enter with him! In 1113, Bernard and thirty young noblemen all presented themselves to the Abbot, St. Stephan. Bernard spent his novitiate in fervent study and prayer and made his profession the following year.
As Bernard made such progress in his spiritual life, his superior sent him with twelve monks to found a monastery at Clairvaux. The monks appointed Bernard as Abbot, and he began his active life. He founded numerous other monasteries, wrote many works and treatises, and made many pilgrimages. He was also offered the place of bishop many times but refused all of them. As his reputation for holiness and good counsel spread, even popes took notice and took his advice.
Bernard attended the Council of Troyes where he sketched the outline for the Knights Templar. He also settled a dispute of who was the rightful pope, rallying support for Innocent II. He also assisted at the Second Council of Lateran and saw the papal election of a disciple of his as Pope Eugene III.
Pope Eugene III commissioned Bernard to preach the second Crusade. Ever obedient to the pope, Bernard traveled through France and Germany, arousing a great enthusiasm for the holy war among the population. When the second Crusade failed, Bernard took much vitriol for it and bore the responsibility for the rest of his life.
Bernard died at the age of 63, after 4o years as a monk. Pope Alexander III canonized him on January 18, 1174 and Pope Pius VIII gave him the title "Doctor of the Church" in 1830. Bernard is also the first Cistercian to be placed on the calendar of saints.
Image courtesy of https://commons.wikimedia.org/wiki/File:Saint_Bernard_de_Clairvaux_MET_DP826977.jpg