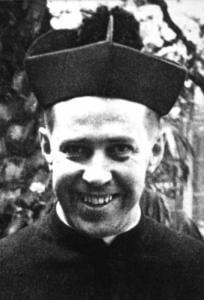 Luis Alberto Hurtado Cruchaga
Alberto Hurtado Cruchaga was born in Viña del Mar, Chile on January 22, 1901 to an aristocratic family. His father died when he was only four years old, his mother decided to sell their large estate. Unfortunately, she was defrauded. This impoverished their family, leading them to live with a string of relatives over the years.
Now without money or a home, Alberto was forced to understand life in poverty. He was only able to attend the all-boys Jesuit school of St. Ignacio, Santiago, Chile due to being granted a scholarship. While there, he volunteered in the office and library of a Catholic parish and school in a poor neighborhood.
Later, Alberto studied law at the Pontificia Universidad Cátolica de Chile and wrote his thesis on labor law. Once he earned his degree, he entered the Jesuit novitiate. He was sent to Argentina, Spain, and Belgium to continue his studies in humanities, philosophy, theology. Eventually, he obtained his doctorate in pedagogy and psychology.
Alberto returned to Chile in 1936. There he was appointed professor of religion at Colegio San Ignacio and of pedagogy at the Catholic University of Santiago. He involved his students with his catechesis of the poor practically from the very beginning. This was an offshoot of his criticism of the catechetical teachings to the poor in Chile and the refusal of the hierarchy there to stay in line with the pope.
Because of his early life, Alberto was heavily involved in social movements.
He founded homes for children in need of shelter and food, Hogar de Cristo.  The shelters spread throughout Chile. It's estimated that between the years of 1945 and 1951, more than 850,000 children received help from his movement. He would also monitor the streets at night to find people in need and help them as he could.
The locals called Alberto "Padre Hurtado" as a sign of affection and his solidarity with them.
Alberto also wrote prolifically on the Church's social teaching. He questioned whether or not the government and hierarchy of Chile were living up to that. He received much criticism for this, especially from more conservative Catholics. Sometimes he was even written off as or accused of being a Communist. Sounds familiar in our day and age.
But the left also attacked him, calling him "the last prophet of the bourgeoisie". None of these things mattered to Alberto; he was only concerned with keeping the Faith and helping the poor and the workers.
He died after a short illness.
One day in 1952, Alberto was rushed to the hospital with a terrible pain. There, he was diagnosed with pancreatic cancer. The media kept a constant vigil, updating the country on his health at all times. Alberto had become a national hero! The illness was intense, however, and after a brief battle with it, Alberto died in Santiago on August 18, 1952.
Alberto was one of the first people to be canonized during Pope Emeritus Benedict XVI's papacy, on October 23, 2005. He is also the second Chilean to be canonized, after St. Teresa of Los Andes. At his canonization, a large group of Chileans gathered in St. Peter's Square, lead by Chilean President Ricardo Lagos and other high-ranking politicians. Some of these men had been Alberto's students during his time as a time.
Alberto's legacy, faith, and good works live on today.
The way that he would be most proud of is that Hogar de Cristo still exists. Today it is one of the biggest charitable groups in all of Chile. There is also an award named for him presented to people for service through journalism.
"I hold that every poor man, every vagrant, every beggar is Christ carrying his cross. And as Christ, we must love and help him. We must treat him as a brother, a human being like ourselves. If we were to start a campaign of love for the poor and homeless, we would, in a short time, do away with depressing scenes of begging, children sleeping in doorways and women with babies in their arms fainting in our streets." -St. Alberto Hurtado, S.J.
Image courtesy of https://es.wikipedia.org/wiki/Archivo:Padre_Alberto_Hurtado_en_el_noviciado_de_Chillán,_ca._1923.jpg