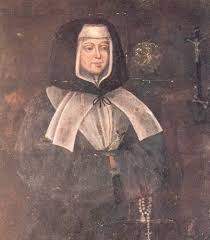 Jeanne Delanoue was born on June 18, 1666 in Anjoú, France to devoutly Catholic parents. She was the youngest of twelve children. Her father was a draper and her mother ran a religious goods shop that catered to pilgrims of a local shrine of Our Lady of Ardilier. Jeanne was described as a very selfish child which spilled over into her adult life for a time.
Her mother died when Jeanne was only 25 and she took over the shop, additionally providing accommodations to visiting pilgrims. However, it was apparent that she only wished to make money off of the pilgrims, as she would keep the shop open on Sundays, an unusual practice in that time. Nonetheless, though, she was devout and it was most likely this openness to grace that ultimately pulled her out of her selfish ways.
On Pentecost 1693, she encountered a pilgrim named François Fouchet. He predicted that Jeanne would one day spend her life in care of the poor. She met this prediction with skepticism but the joke was on her. She gradually began doing just that in her life, caring especially for orphans, until she ended up needing to close the family business to more fully commit herself to this work.
Eventually, Jeanne and other women who shared her vision of helping the needy founded the Sisters of Saint Anne of Providence of Samur, known today as the Congregation of St. Anne of Providence. The congregation was formally approved by the Vatican in 1704. Jeanne died of natural causes on August 17, 1736, simply worn out from her labors. At that time, there were twelve communities of her sisters throughout France. Today her congregation serves the poor in France, Madagascar, and Sumatra.
Pope St. John Paul II canonized Jeanne in October 1982.
What Jeanne reminds us is that grace works in us over time. We might not have a great "St. Paul" conversion story but might labor little by little throughout our lives, gradually becoming closer to God, more open to grace, and holier. Like Jeanne, we should never become discouraged but rather trust in God and His love.
Image courtesy of http://www.vatican.va/news_services/liturgy/saints/ns_lit_doc_19821031_delanoue_photo.html