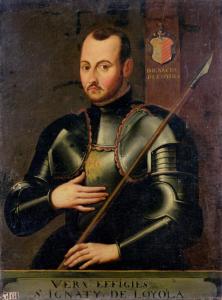 Ignatius of Loyola. He's one of the big dogs. You probably know him as one of the founders of the Society of Jesus (aka the Jesuits). I know him as a kindred spirit.
There is so much to say about Ignatius that this will be insufficient regardless. There's lots of information on him and the Order he founded, and plenty on the spirituality he spurred, too. Ignatian Spirituality is a great resource for all of this! Of course, there are plenty of personal stories about him, too; from accounts of his friends, followers, and contemporaries, to the stories of his miracles, and to stories of other people's interactions with him after he was canonized.
My experience with him began in college at Franciscan University of Steubenville. While I was there, Ignatian spirituality was the new "it" spirituality; we even had a whole course offered on it and the Jesuits! I first heard of Ignatius of Loyola, really, through one of my courses when we learned about St. Francis Xavier, one of his companions and co-founders. I had an immediate connection with Francis Xavier (and still do) but it was he who drew me to Ignatius.
Through getting to know Francis Xavier, I became interested in Ignatian spirituality. The first time I prayed the Anima Christi, I cried. The first time I prayed the Suscipe, I felt known. These were words from Ignatius of Loyola that had filled my heart. I began praying the Examen every day (and still do) and my life changed. However, I didn't think much of Ignatius himself until a few years later.
July 31, 2010: I was driving a few hours to meet a man I had connected with on a dating site for our first date. I was nervous. I was a little bit scared. Mostly, I was alone. I pulled off at a rest stop to clear my head and realized the day was Ignatius's feast. I prayed, "Keep me safe. Keep my date safe. Guide me. Help me to make good decisions. Please, don't let this guy turn out to be a psychopath who's going to kidnap me." I prayed the Anima Christi and got back on the road.
I married that man. Ignatius of Loyola has played a role in our relationship ever since that pit stop in somewhere California. When we have doubts, we ask for his intercession. When we don't know what to do, we ask Ignatius to help us discern rightly. We also just commiserate with him sometimes; my husband was once a soldier, just as Ignatius had been. Ignatius is also dear to me because we both have sustained great strength through reading the lives of the saints and forming relationships with them.
St. Francis Xavier once told a relative about Ignatius of Loyola: "Never in all my life will I be able to repay the debt I owe him." I feel the same way. May Ignatius of Loyola lead us all as "Friends in the Lord".
Image courtesy of https://commons.wikimedia.org/wiki/File:Ignatius_of_Loyola_(militant).jpg