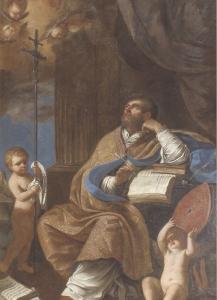 Peter Chrysologus was a bishop and is a Doctor of the Church known as the "Doctor of Homilies" for his short but rich sermons. His name "Chrysologus" means "golden-worded" and was given this name by Empress Galla Placidia, who also patronized many of his projects.
Peter Chrysologus was born in Imola, Italy in 380. He was made bishop of Ravenna in 433 and led his flock with extreme diligence and care. Interestingly, he was appointed over the candidate the people of Ravenna elected. Tradition states that Pope Sixtus III had a vision of St. Peter the Apostle and St. Apollinaris of Ravenna, who told him that the next Bishop of Ravenna would be a young man named Peter. Sixtus recognized Peter Chrysologus as the young Peter in his dream and consecrated him as bishop.
In his numerous homilies, Bishop Peter Chrysologus briefly but thoroughly explained Biblical texts. He kept his sermons short because he didn't want to fatigue his people with his words. He often, also, quoted heavily from Scripture, letting Scripture do the talking and acting only as its mouthpiece. For example, here is his whole sermon, "On Peace" (in which he reiterates Romans 12:1):
Now that we are reborn, as I have said, in the likeness of Our Lord, and have indeed been adopted by God as his children, let us try to put on the complete image of our Creator so as to be wholly like him, not in the glory that He alone possesses, but in innocence, simplicity, gentleness, patience, humility, mercy, harmony, those qualities in which He chose to become, and to be, one with us.
Peter Chrysologus was also known for his corporal and spiritual works of mercy and for his condemnation of the heresies of Arianism and Monophysitism. He explained the Apostles' Creed, the mystery of the Incarnation, and other topics in clear, easy-to-understand language. He had a series of homilies dedicated to St. John the Baptist and another series of homilies dedicated to the Blessed Virgin Mary. Peter Chrysologus also advocated for daily reception of the Eucharist.
The surviving works of St. Peter Chrysologus share the Church's traditional beliefs about Mary's perpetual virginity, the penitential value of Lent, Christ's Eucharistic presence, and the primacy of St. Peter and his successors.
He died on July 31, 450 while visiting his hometown of Imola.
Image courtesy of https://commons.wikimedia.org/wiki/File:Saint_Peter_Chrysologus.jpg