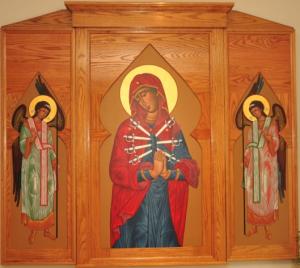 A game we used to like to play back in Catholic college was "Which Mary is your mother?"
Everyone seemed to have a certain title or apparition of Mary that they felt closest to or held a special devotion to. But I didn't. I struggled with Mary more than any other aspect of the Catholic faith. She felt too pure for me, too perfect, too womanly. I struggled to love her because I struggled to understand her and what sinlessness truly means. I prayed my rosary and meditated on her virtues and generally just put on a good show of loving her, but inwardly I never felt close to her. Perhaps without realizing it, this was the beginning of my love for and devotion to Mary, but it seemed wholly irrational and insufficient to me at the time.
So in July 2007, after having just graduated with my BA in Theology, two friends and I were driving from the wedding of another friend when Mary came up in discussion. "Who's your Mary?" one of them asked me. From the backseat of that sedan without hesitation or premeditation, I answered, "Our Lady of Sorrows."
I would come to understand the absolute truth of my words within 8 months
But first, almost exactly two months later, my Gram died on the feast of Our Lady of Sorrows (September 15, if you're unaware). It was lost on me in that moment, but I realized it later. I had begun my MA in Theology that semester and was struggling mightily; it didn't feel like what I should be doing and I was, therefore, sad and angry most of the time, but I didn't have a better (or any other!) plan, either, so I stayed put. My Gram's funeral came almost as a relief for me because it meant that I was able to step out of my everyday for a few days and be with family and celebrate and mourn this good woman who was my grandmother.
In fact, I was with her the night she died. It was a Sunday night and she laid on her couch, breathing raggedly and obviously frightened. She was almost 90 years old and had been in declining health for some years; her death wasn't a surprise but the fear in her eyes was. I knelt beside her and just told her who I was (for years senility sometimes made her unable to remember who we were) and that I loved her very much. I held her hand for a while as she shook and I told my aunts and uncles that it was time to call a priest for her. My family tells me that their priest came and gave her Last Rites and that, after she received absolution and communion, the priest said to her, "Irene, you are sinless. You have nothing more to fear," and she stopped shaking and passed within a few minutes at peace.
A few days later, we all– all my cousins, aunts, uncles, second cousins, great-aunts and uncles, friends– gathered at the parish Gram grew up in, Seven Dolors, in a tiny former mining town east of Pittsburgh. I remember sorrow and joy coursing through me at the same time and the intense desire for all of my family to be reunited one day in heaven. After receiving communion, I uttered a prayer that came to me like a gust of wind, "Let me live purgatory for all my family members who struggle to remain faithful." I offered myself on behalf of my family. I don't know how well I've done at this in the years since, but I think of this often and, as I try to be good, holy, and perfect myself, I still offer myself for my family. This is still my desire, that we be together in heaven.
That was the day I began to understand Mary a little bit more
She sorrows to bring us together in heaven, to unite us with her holy Son Who is the means of salvation. She sorrows when we struggle and fail and hurt. She sorrows when vices separate us from her Son. She wants nothing to separate us from Him. Her prayer for us, as our mother, is a perfect prayer and Jesus listens to her every request.
On March 30, 2008, a Sunday, I had just gotten back from leading a retreat for middle schoolers. I had dropped out of my MA program and re-enrolled, at the same university, as an undergraduate English Writing major. I was much happier and while I still didn't have any real direction in my life, I felt like I was walking the right path. My mom called me that afternoon and we talked about our weekends; we normally talked at least once a week and she had called me on her drive home from church after counting the collections. She had been an extraordinary ministry of Holy Communion that morning. We talked about my life and how I still felt rather confused about what direction to take  and she expressed her frustrations for me, praying that something big and good would just happen for me soon. I said to her, "The most powerful prayer is the prayer of a mother."
That night, my mom died at home in a freak accident when she fell down the stairs. I remember my world literally spinning when my uncle told me, how I didn't fall over simply because he was holding onto my shoulders; I remember later laying on a rug in his kitchen as my dad and I talked about it over the phone. I remember calling different friends and family to let them know and saying to my spiritual director, "I told her the most powerful prayer is that of a mother and now she prays perfectly." I remember other little bits and pieces of that night and the next week, but nothing congruent.
I do remember standing in Seven Dolors cemetery, the same one my Gram was buried in just 6 months prior and where all of my dad's Italian family is buried, and realizing, Mary was my only mother now and that she had been my mother, specifically as Mater Dolorosa, for a very long time.
I began to intensely get to know Mary as Our Lady of Sorrows
I started praying the Chaplet of the Seven Sorrows as often as I could and meditated on each of her sorrows daily. I read devotions to her and invoked her in my daily life. I began just talking with her and crying with her and understanding that her sinlessness didn't mean she was immune to sorrow but that she felt it even more purely and intensely.
Then I began to put pieces of my life together. The parish my Gram grew up in and that she and my mom were buried in, Seven Dolors– that means "seven sorrows" and is a reference to Our Lady of Sorrows. Gram died on the feast of Our Lady of Sorrows. My Gram's mother was named Mary Delores for Our Lady of Sorrows. Mary had been watching over me as Mater Dolorosa from the time I was a small child (the first time I remember being in the cemetery of Seven Dolors Parish I was about three years old) and even more likely, since I was born. "I will not leave you orphaned," the Lord says to us and He showed me His promise in giving me His mother as Mater Dolorosa (cf. John 14: 18).
Our Lady of Sorrows has walked with me through some of my darkest and most joyous times
When I married, I felt the distinct loss of my mother on that day. Truly, I had felt her loss the entire time my husband and I dated and were engaged. I realized I loved him when, one morning, I was crying over the loss of my mom and how he would never know her, and while he cradled me in his arms, I looked up at him to find him crying, too.  He felt her loss, too. He entered into and helped me carry my pain; he still does.
When I was pregnant with our first child, we found out she was a girl and she was supposedly due on September 15, the feast of Our Lady of Sorrows (I knew their math was off, but I took this as a sign of God's goodwill). While she was still in utero, I consecrated her to Mary under the title of Our Lady of Sorrows and my husband and I decided she would be our daughter's patroness. From the moment she could comprehend, our daughter has been particularly close to Mary (she almost always has either a rosary or medal or statue or doll of Mary with her) and I pray that never changes.
I've grown, too. When I've had crises of faith, been so discouraged that I could barely look at a crucifix, I prayed to Mary. I prayed that she would hold me and take me to her Son because I was incapable of going to Him on my own. I prayed that she would help me to have faith again, because I know that she prays perfectly and that Jesus listens to her requests. I've prayed to her when I was alone and desperately needed my mother, too (a particular instance of the flu comes to mind, that as I hung my head over a toilet, alone in a dormitory bathroom stall, that Mary would just be with me, and I felt her).
Our before bed blessing to our children is: "God bless and keep you. Sleep well and have sweet dreams. May your guardian angel be close at hand and Mama Mary wrap you in her mantel. I love you." Our daughter has begun to reciprocate by blessing us with this formulation, as well.
Pope St. John Paul II says of Our Lady of Sorrows: "Turn your eyes incessantly to the Blessed Virgin; she, who is the Mother of Sorrows and also the Mother of Consolation, can understand you completely and help you. Looking to her, praying to her, you will obtain that your tedium will become serenity, your anguish change into hope, and your grief into love."
As I've grown in love with Mary, I've grown closer to my loved ones and, ultimately, closer to Christ. She does her job well! And I've grown closer, in a new way, to my own mother. I am fortunate that I have two mothers who pray perfectly for me and I pray that I be reunited with them one day.
Image courtesy of http://www.sevendolors.org/media/pages/gallery-viewer.aspx?lib=Seven%20Dolors%20Church