Tomie dePaola passed away yesterday. He was a renowned author and illustrator of many, many children's books, including my favorite Strega Nona. I don't know much about Tomie the man but from what I've read and been told about him he was a joyful, generous, kind man. That fits very well with the man I picture writing and illustrating the stories that have captivated me for decades and that my own children now adore.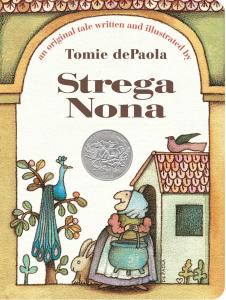 I once retold the story of Strega Nona in a catechetics class at Franciscan University with Sr. M. Johanna Paruch, FSGM. The assignment was to pick a short story that could relate to an aspect of the Faith and tell it to the class without much movement or flamboyancy. Strega Nona was a story I knew very well and I related it to reconciliation. I practiced telling this story for weeks– perfecting my pauses and inflections and voice. The day of, I was the first to present and did as perfectly as I could hope. Sr. M. Johanna was a notoriously hard grader and I was expecting to be picked apart. Instead, she gave me a perfect score!
That is but one good memory in a sea of many I have with the works of Tomie dePaola.
Tomie also wrote a beautiful story called The Clown of God about giving that one thing you have to God. Simcha Fisher has written about it and I tear up when I read the book. As I reflect on the joy and the beauty that Tomie created and gave to all of us, this is what I think of. Tomie was God's clown and he gave God everything he had– to our great benefit, that came in the form of beautiful stories and illustrations.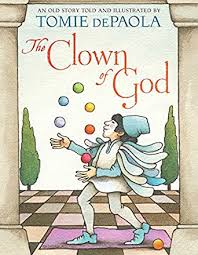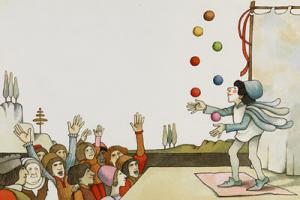 Tomie published over 200 children's books and we are better for it. At the end of the story The Clown of God, the man juggles the golden ball higher than ever before and cries out, "For you, sweet child, for you!" and then dies. I cannot help but imagine this as Tomie and the child Jesus smiling His radiant smile at Tomie, welcoming him home.