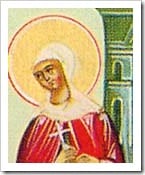 Julia was born in Troyes, France in the third century. She was taken captive by soldiers of Roman Emperor Aurelian and given over as a slave to Claudius. Through her teachings, Julia was able to convert Claudius to Christ. In 272, upon the orders of Emperor Aurelian, both Julia and Claudius were beheaded. Their relics were enshrined in the convent of Jouarre, near Meaux, France.
That's it, that's all that's known of her. I thought about skipping over her to find a saint with more info. With so little to work with, what's the point? I feel this way about myself often. No one knows me, there's not much to know. Or, no one knows me and that's a shame because I'm hella interesting. Most of us lead pretty hidden lives. Most of us will not be canonized saints, recognized by thousands, our names on the lips of the faithful. However, most of us will, hopefully, be part of that cloud of witnesses in heaven who go unnamed to us.
But we are never unnamed by God. And that's the most important part, isn't it? He knows us, knows our deeds and thoughts and hearts. So it's good to know even this little bit about Julia because by knowing her, we get to see a little more of God. I hope that by reading my daily accounts of the saints, you get to see a little more of God. These tiny glimpses into the lives of these persons could not do justice to the immensities contained within each, no matter how much information we have on each of them.
I hope that my writing in general helps you to see a little more of God. That's my goal. That's my only goal. I want to be part of that cloud of witnesses and I want you to be there with me.
Image courtesy of http://ww1.antiochian.org/node/19098