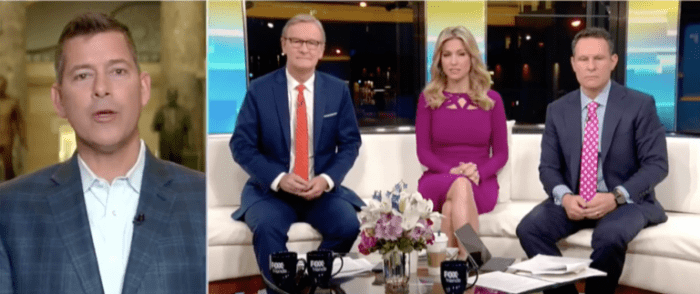 Republican Representative Sean Duffy (WI) recently appeared on Fox New to discuss why the new $1.3 trillion spending bill is being rammed through Congress and why the process is so dysfunctional. First, they asked him if he predicted that the government would shut down, if the spending bill was not approved by the House and the Senate.  
"I don't think we're going to shut down, but we do have a lot of members of Congress who are upset about what is happening…  You pass a budget — we did that last year in the House — and you pass twelve appropriations bills.  You break this up into twelve bills.  We did that in the House. We sent that to the Senate.  And the Senate is so dysfunctional, they didn't do any appropriations," he said.
"What happens is that you have to pile all of this money into one bill, we have less than 24 hours to review this thing, it's 2200 pages….  The problem is, there's really good spending in here.  We increase funding for our military, we give our troops a pay raise, we up V.A. spending, we address opioids, we set up money for the wall, all good stuff… but we're $21 trillion in debt…"
If you're tired of the dysfunction, you're not alone. Over 3 million Americans have joined the Convention of States Project, the only grassroots-led movement in the nation dedicated to calling a Convention to limit the power and jurisdiction of the federal government.
A Convention of States has the power to propose constitutional amendments. These amendments can force the feds to be fiscally responsible and work for the good of the American people rather than their own political agendas.
About Convention of States
Convention of States is currently organized in all 50 states, including over three million volunteers, supporters and advocates committed to stopping the federal government's abuse of power. Twelve states: Alaska, Florida, Georgia, Alabama, Indiana, Oklahoma, Tennessee, Louisiana, Arizona, North Dakota, Texas and Missouri have passed identical Article V Resolutions since the Project's founding in 2013. Virginia hosted the first-ever Simulated Article V Convention of States in the fall of 2016. Currently, 28 states are considering the COS resolution. 
Image Credit: Screen Cap