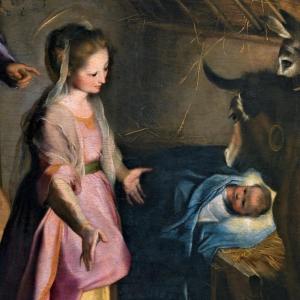 "Christ is that infinitely wondrous event which compels a person, so far as he experiences and comprehends this event, to be necessarily, profoundly, wholly, and irrevocably astonished."
– Karl Barth
In this painting, by Federico Barocci, The Nativity (1597), which hangs in the Prado Museum in Madrid, Mary stands before her child with her hands lowered and facing outward as though about to catch something that floats toward her solar plexus. Or is she pressing outward, making a gesture of offering? The light slaps at the heel of her left hand and plays along the length of her right forefinger, whose graceful lift is accentuated by the wide arrow of light that slides down her right forearm. Her hands, tracing an invisible diagonal line, seem to spell the word, surrender. Her eyes, her shoulders, and her elbows all tilt along parallel diagonals that "rhyme" with her gesture.
Mary's is not the surrender of a defeated adversary, though. The entire focus of her body speaks of an alert attention toward the source of her astonishment, the child face, which turns toward his mother's gaze. His blue-blanketed body creates a new, horizontal line, which begins at Mary's open left hand. Together, the bodies of mother and child form a wide angle, one that opens toward viewers to invite us in to the shadowed intersection where the divergent rays of the angle meet.
Astonishment cracks us wide open. It splashes us with warm light. It creates lines of connection in the empty air. Astonishment cannot hide its eagerness to include others in the embrace.