For reggaeton artist Ozuna, life is an "odyssey." In a genre that tended to uphold bravado, domination, and hedonism as ideals, this metaphor distinguishes his image and artistic vision from those of earlier reggaetoneros. Ozuna is not alone, though–his lack of fear of bearing his vulnerability and the introspective tone of his lyrics reflects a growing trend within "musica urbana," (which I wrote about at length in this article) which combines the traditional dem bow rhythm of reggaeton with the sounds of dancehall, trap, and afrobeats. Ozuna consistently explores the themes of innocence, fragility, and desire, constantly in search of "something more" and never settling for a reduced or partial answer.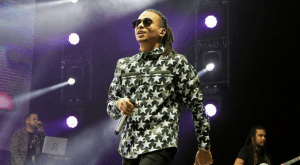 "What will become of me?" he asks in "Que Sera de Mi?", the intro track on his debut album Odisea. "If I don't wake up tomorrow and God comes to take me…who will take care of my family in this deceitful world?" Ozuna lays out his vision of life as a journey by recounting his beginnings in Puerto Rico. He grew up poor, often unable to pay the electric bill and not always having enough food. Music became his "university," teaching him about how people often fall temptation to corruption, violence, and self-centeredness. 
He continues in the song to rap about his marriage and his daughter's birth, which is his "greatest blessing," and his musical breakthrough in 2016 with his song "Si Tu Marido No Te Quiere." His newfound success came along with challenges like people trying to take advantage of him, and losing time for "what was most important in life." Ozuna recognizes life to be pervaded by this sense of finitude and darkness, no matter one's economic status or level of success.  And yet he retains hope–having learned to avoid the vices and threats that surrounded him, and trusting that God is with him and has sent him "on a mission." Making music was not only a means to escape poverty and become successful, but rather was his way of embarking on an odyssey and carrying out his mission, relying on the "flow of his natural style" that is "in harmony with his heart."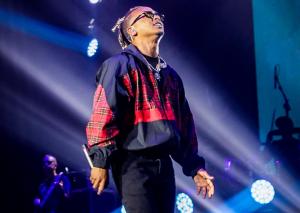 In the intro track to his sophomore release Aura, he laments being afraid of who he truly is. "Mirror, tell me the truth, how do I stop lying to myself? When I look at you I see reality, and I know how much these lies hurt me." He lies when he pretends that he's fine, but his "heart is not," or when he laughs, but is crying on the inside, and when he uses a woman's affection to erase his pain. 
He is unafraid to face his own brokenness, and is determined to live authentically and love truly. In "El Farsante," he sings about losing his beloved because of his own "foolishness." He admits to being sick with longing for her and feels like he's "been left in limbo." He begs for forgiveness from God and pleads with her to take him back, promising he will amend his ways. He's willing to sacrifice his freedom and give his all to be with her once again.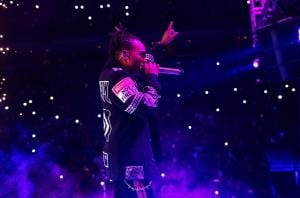 In "Una Flor," he explores the nature of eros, or romantic love, by taking on the voice of a deceased lover addressing his beloved. He acknowledges both his strengths and weaknesses, admitting to have sinned "just like you," and to have carried his own cross. "I've seen a flower die," he sings, comparing the finite nature of eros to that of a flower, "of a distinct color, which I will never find again." Eros, in its beauty and pleasure, is but a mere sign of that greater love we all long for. Though it satisfies partially, it is unable to overcome human brokenness by itself or surpass the inevitability of death. "And if my soul flies up beyond, I only ask God to continue watching over you." He hints that true eros must be willing to look beyond the eyes of the beloved–willing to accept sacrifice, death, the finitude of our existence, and broaden its horizon toward the infinite Itself–if it is to be transformed into agape and withstand the test of time.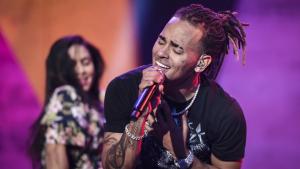 A married man and father, Ozuna has committed to avoid degrading women in his songs and videos. Thus his songs about women present them as deserving of commitment and respect, always willing to admit his mistakes and the ways he may have hurt them. He even takes on the perspective of a woman in songs like "Se Preparó," rapping about the experience of a male partner being unfaithful.
In an interview he expressed that when one becomes successful, they must choose which "path" they are going to go down. Will they promote violence, greed, and using others, or will they present a "positive image"? "If I talk to a kid about guns, they're all going to want to get guns…but if I talk to a kid about things like bears, and what they deserve to hear, then they'll go in the right direction," he said, referring to his mascot "Odi," a teddy bear that appears on all of his album covers and in the video for "Siguelo Bailando." "There are fans for everything, for music about guns and violence, and for positive music with real meaning."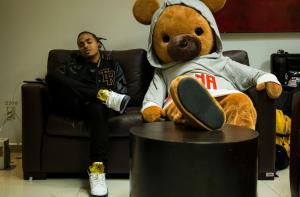 His determination to be "positive," honest, and to search for a lasting truth appears to be informed by his spirituality. He often posts Bible passages on Instagram, and once posted that he's "been all around the world and can tell you that no one can fill your heart like God can." In an interview prior to the release of Aura, he said, "I want to reach people's hearts with the word of God–this is my greatest goal, the greatest mission of my career." His mascot Odi can be seen as a faint echo of Jesus' words in the Beatitudes, or about those with a "heart of a child" being first to enter the Kingdom.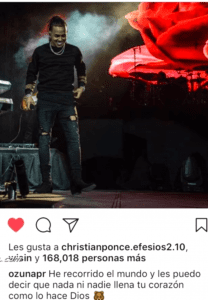 Ozuna's music has set a trend in musica urbana, inspiring other artists to mature past themes of instant gratification and self-preservation. His music offers a breath of fresh air for those who find themselves unable to relate to the exaltation of the ephemeral presented by earlier mainstream reggaeton artists, showing that they don't have to harden their hearts and settle for less than true happiness. Comparing reggaeton's first mainstream breakout star Daddy Yankee with his recent counterpart in musica urbana J Balvin shows how drastic the change is. Balvin's introspective lyrics deal with his experience of longing, heartbreak, and what he calls "vibras," or spiritual energy. One could also look (to a lesser extent) to the lyrics of Bad Bunny, who oscillates from the extremes of hedonism and self-sufficiency to sadness, self-doubt, and even nihilism.  
Ozuna's music is most unique in his focus on the theme of searching and being on a journey toward something greater than pleasure, success, and complacency. Though some of his more recent songs may be more commercially-focussed and less transparent, we can only wait to see where the odyssey will take him next.