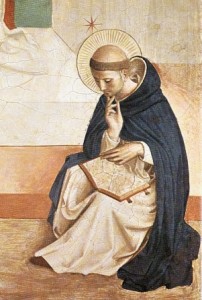 Welcome to my new blog!
It's said that St. Dominic's mother, while carrying the future saint in her womb, had a dream of a black and white dog carrying a torch in his mouth. It's certain that the order he founded, the Dominicanes in Latin, were soon known as the Domini Canes, the Dogs of The Lord—for their zeal in pursuing the truth, and for their faithfulness.
I was received into the Dominican Order in 2010 as a member of the Lay Fraternities of St. Dominic. That makes me a Lay Dominican (what used to be called a Third Order or Tertiary)—the Dominican equivalent of the Benedictine Oblates or Secular Franciscans.
The official name of the Dominican Order is the Order of Preachers, so welcome to my pulpit! Mind you, I don't intend to write sermons as such. One of the glorious things about the Catholic Church is that it truly is universal. Everything that is, from the smallest atom to the largest galaxy to God himself, is an appropriate object of Catholic thought. I intend to reflect on some of them, and have a little fun in the process.
A few words about me. I'm a software engineer by profession. I've got four kids, and a wife who loves me more than I deserve. I enjoy bad puns, and books of all kinds. I've been on-line since the mid-1980's, and have been posting book reviews on my personal website since December of 1996, most recently at
The View from the Foothills
. I rejoined the Catholic Church in 2007, and have since been writing more and more about explicitly Catholic matters; and have now been fortunate enough to be asked to write for the Catholic Channel at Patheos. And here I am!
So… Jesus is risen. He loves you.
Or, as one of the Lord's Dogs might say, "Woof!"