So in a fit of madness I pre-ordered an Amazon Echo when they were announced a couple of months ago, and it arrived on my doorstep this afternoon. I say a fit of madness because I'm not usually an early-adopter; but I was in a susceptible mood and it seemed like it might be cool, maybe, possibly, perhaps, a little.
My first reaction, having spent fifteen minutes or so with it—this thing is pretty darn nifty.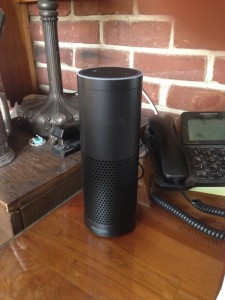 So what it is it? Well, that's it over there to the right. It's a black cylinder about nine inches tall and three inches in diameter. It's got a speaker on the bottom half and a couple of buttons and a microphone on the top. It connects to your Amazon account; and it will do whatever you ask it to.
You call it "Alexa," as in, "Alexa, what's the weather?" Or "Alexa, play Pandora." Or, "Alexa, I like this song."
It comes with a phone/tablet app you use for setup and configuration…and other things. For example, I can say, "Alexa, add apples to my shopping list." The Echo will tell me that it's done it; and when I go look at my phone or my tablet, there it is. Or, "Alexa, I need to call Jane." Echo adds that to my To Do list.
And if you say, "Alexa, what's on my shopping list," Echo will tell you.
It handles alarms and timers. "Alexa, set a timer for 15 minutes." "Alex, wake me at 6:15."
The voice recognition is very nice. It had only misunderstood me once, when I was about five feet away, facing the other direction, and asked it a hard question: "Alexa, when did H.P. Lovecraft die?" Echo heard the name OK the second time. (For the record, the answer is "H.P. Lovecraft's day of death is Monday, March 15, 1937.")
Setup was straightforward. First, you plug it into the wall and let it get powered up. Meanwhile, you download the Amazon Echo app for your phone or tablet; it walks you through the rest of the setup, which was absolutely painless. At the end, Echo was connected to my wi-fi network, the Echo remote was paired and working.
Wait…a remote? But this thing uses voice recognition!
True; but you might be sitting across the room, too far from Echo's microphone…so you use the microphone on the remote instead. It's also got music player buttons for forward, reverse, play/pause, and volume control. And of course you can control the music playback from my phone or tablet as well.
Echo supports Amazon Prime Music along with several music services, including Pandora and iHeart Radio, as well as news from a number of sources. The Prime Music is especially nice: I can say, "Alexa, play Johnny Cash," and I get Johnny Cash. I can name a particular song and get that. If it's available for listening, Echo will play it; and if I would need to buy it (from Amazon, naturally), it will play a sample.
I'm sure I'll discover some warts over the next few days, some places where it could do better…but the thing to remember is that Echo is essentially a web browser with a voice interface embedded in a small computer. Most of the intelligence is in the cloud somewhere; which means that Amazon can go on improving Echo's capabilities almost indefinitely without requiring me to buy a new unit.
Frankly, I'm impressed. I'd planned on putting it in the kitchen, where Jane could use it too; now I'm thinking, hmm. Maybe Jane can buy her own.
____
photo credit: personal photo