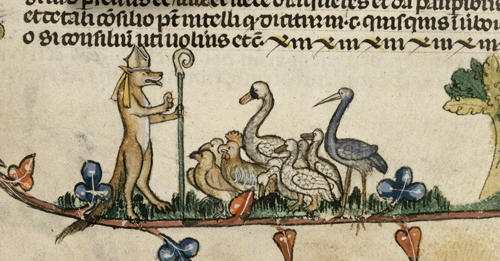 The Dogmat saw the usual range of stuff, including a couple of thought-provoking pieces and some absurd and touching faith in the power of technology and technological thinking.
The Cathedral of Our Lady of Amiens in Minecraft: Be sure to click through and watch the video; it's truly an amazing accomplishment. (Link courtesy of Tom McDonald.)
What's the Point of Pointless Suffering?: We've been discussing suffering recently, chez Dogmat; here's one of Jennifer Fitz' recent posts on the subject.
Five Books a Smart Atheist Should Read: We've also had a lot of atheists around recently, so this post caught caught the Dogmat's eye. He has not read these himself, except for portions of the Summa Theologiae, but now he's curious to do in his copious free time.
Technology and the End of Lying: The writer claims that improvements in surveillance and lie detection capabilities will make lying so difficult that "The permanent confrontation with a verifiable truth will turn us into overly cautious, calculating, and suspicious people." The Dogmat begs to differ; when it comes to ways to lie, human beings are too ingenious to keep down for long. In the meantime, the Dogmat longs for eternity in the presence of Verifiable Truth.
America's Technical Debt: In a similar burst of optimism, the author is looking for people "who can solve the problems of politics like a programmer solves problems in computer code, because a democratic system with vulnerabilities is a democratic system that can fail or be made to fail." The Dogmat would never claim that our current system cannot be improved—but ultimately, the problem isn't the system, the problem is people, because people are adept at finding ways to make any system favor them at the expense of others. He would find this desire for political perfection in the absence of universal human virtue funny if it weren't so chilling: attempts to fix human imperfection by means of political systems has a tendency to run up massive body counts.
Stop Evangelizing Through The Courts And The Legislature: Pia de Solenni makes that point that so long as our Catholic witness to our neighbors is primarily issue-driven we will fail to win them over. Instead, we must "cast out into the deep." The Dogmat agrees.
____
photo credit: The British Library, Public Domain