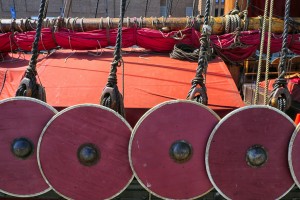 Those happy few who have read Vikings at Dino's sure seem to like it; the latest review up at Amazon, from a man I've never met or spoken to, goes like this:
Anyone who's a fan of Terry Pratchett or Douglas Adams will feel cozy at home with Vikings at Dino's. Told with a dry-humored prose that had me laughing out loud every couple of pages, the novel is a story of the outrageous and fantastic (in the literary genre sense) happenings in the life of young, geek programmer, who's our reluctant hero. Things start with a bang and don't come up for air until about a third of the way through the book, when the pace slows enough to get some important exposition and character development, which makes a nice backswing before the story charges to a finish. Something alike for fans of sci-fi, fantasy, historical fiction, alternative history, philosophy, light romance, or "The Big Bang Theory".

Note to Will Duquette's publisher: Pick up this guy's option, because I'm waiting for the next installment.
Since I've gone the "indie" route, I'm my own publisher; and I'm happy to say that I've picked up my option and I'm about 35,000 words into the next installment. The working title is Very Truly Run After. In addition, I'm working on bringing out a truly beautiful edition of my first novel, Through Darkest Zymurgia; more on that as matters develop.
____
photo credit: Draken Harald Hårfagre via photopin (license)