My husband (Mike) and I went to the Rembrandt exhibit at the Cleveland Museum of Art last week.  I am always intrigued when looking at great masters of art.  This was particularly so at this exhibit, where there were side-by-side comparisons of Rembrandt's originals with artists who were schooled by Rembrandt.   Some differences were quite subtle, others very noticeable.   As I walked through and viewed the exhibit, I found myself asking, "what did Rembrandt see?"   I know what I saw:  beautiful variations of light, textured skin in the faces of his subjects, intricate jewelry that shimmered,  hands with fine details in the wrinkles, fingers and finger nails.  I could hear various comments from others at the exhibit who saw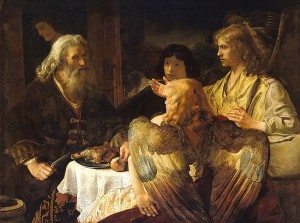 things I couldn't see due to my lack of understanding or the position from which I was viewing the portraits.  There were many students at the exhibit, along with their professors who had a much larger context for viewing Rembrant's work than I have.  There were many like me viewing the exhibit as interested amateurs but viewing from different angles and distances.  So, not only viewing the works but being in ear shot of others furthered my perspective of what Rembrant perhaps saw.
Seeing, looking, wondering, and hearing:  I wonder if these are prerequisites for  theology as an artistic enterprise?  Theological reflection that is in service to God and others is an art that has a lot to do with what we are willing to see, how much we are filled with wonder at the vastness of the world which God loves, and how open we are to hearing the views and perspectives of others given the limitations of our own viewing angles and distances.  And what if we are unwilling to see, look, wonder and hear?    What does it say about us when theology becomes a science of surety for our "already made up minds?"   (This phrase is courtesy of my previous colleague, Dr. Marvin McMickle). This takes us into the terrain of ethics, my particular academic discipline.    Not being able to see, look, wonder and hear is one thing.   Not being
willing
to see, look, wonder, and hear is something entirely different.  It's amazing the difference which just one tiny step might make to what we see and hear.