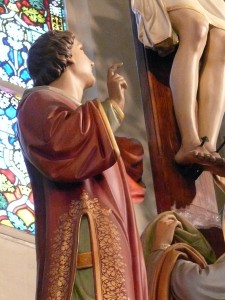 December 26 is a day marked on the church calendar as The Feast of Stephen. Now some of you hail from countries where December 26 is also known as Boxing Day. Contrary to popular opinion, Boxing Day has nothing to do with boxing up your Christmas trash, with after-Christmas sales or with punching some irritating relative to whom you were just being nice during the holiday. Instead, Boxing Day derives from an historic practice of opening and emptying church alms boxes and giving the money to the poor and needy on the Feast of Stephen. Therefore Boxing Day is traditionally devoted to giving to those less fortunate; with the double advantage of atoning for any personal, selfish excesses of Christmas proper.
This encouragement toward charity on the Feast of Stephen inspired the Christmas carol Good King Wenceslas. Perhaps you know it: Good King Wenceslas looked out, on the Feast of Stephen, when the snow lay round about. Deep and crisp and even. Brightly shown the moon that night, though the frost was cruel, when a poor man came in sight, gathering winter's fuel. The carol goes on to tell about how King Wenceslas, a 10th century Bohemian monarch, helped the poor man out. The carol ends with a moral: Therefore, Christian men, be sure, wealth or rank possessing, you who now will bless the poor- shall yourselves find blessing. 
The story of Stephen himself appears in Acts. He's mentioned among the first church deacons, one of seven recognized as full of the spirit and wisdom who were selected to wait on tables and to make sure that food was distributed properly among the nascent Christian community in order to free up the twelve apostles to teach. This concern for equitable food distribution, particularly to poor widows who were getting overlooked, is why the Feast of Stephen is associated with giving to the poor.
However it was not Stephen's role as a deacon that made for December 26 being designated his feast day. Rather, it was Stephen's role as the church's first martyr. Despite what some must have considered to be the menial nature of Stephen's work as a waiter of tables, Acts reports that through the Holy Spirit, Stephen also performed "great wonders and signs" among the people. These wonders were threatening to early church adversaries who determined to squash Stephen and his gang of seditious Jesus-followers. Unable to outwit, outdo or discredit Stephen by straightforward means, the church's antagonists resorted to slander, spreading rumors that Stephen bad-mouthed Moses, the Temple and even God himself. Consequently, Stephen was hauled before the high priest and the elders who demanded an answer to the trumped-up charges. Stephen turned the tables and proceeded to lecture the entire religious power establishment as to their own obstinacy toward God in rejecting Jesus, who by his death and resurrection proved to be the fulfillment of God's promises—both those prefigured by the Temple as well as those given by Moses.
The high priest and the elders, predictably enraged when Stephen went on to call them hypocrites and stiff-necked murderers, dragged Stephen out into the streets and stoned him dead. As he died, just as Jesus himself had done on the cross, Stephen prayed for his killers' forgiveness. Saul, who would later be changed by God into Paul, gave approval to Stephen's death and followed it up with a violent and widespread persecution.
So why dedicate the day after Christmas to the first casualty of following Jesus? Jesus told his followers that being his disciple would mandate their carrying a cross too. "You'll be handed over to be tortured, and will be put to death and hated by all because of my name," Jesus said. The early Christians eventually found themselves facing just what Jesus predicted as they sought to stay faithful and speak truth in their day. Overwhelmed by both gratitude and conviction, these believers had no other options.
Christmas and the Feast of Stephen go hand in hand. God came to us amidst scandal and humiliation at Christmas so that he might die for us amidst scandal and humiliation on Calvary. But because it is into our scandal and humiliation that God comes and dies, we are ironically freed to follow him in humiliation that is not humiliating anymore. Death no longer carries its sting. In Christ the humble get raised up. Praise the Lord for He is good, his steadfast love endures forever. And so must our love endure, even if it kills us. I don't know if I can love like that, but I do know that I must try. And in those moments when I painfully do succeed, Christ is honored and his Name is blessed.