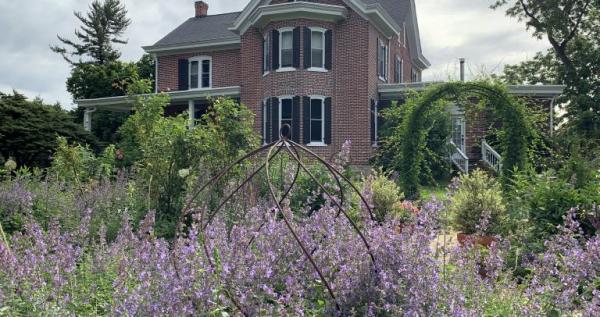 I live in the ordinary dull-gray world of sibling squabbles, broken air-conditioners, flower-eating garden pests, and forgotten dentist appointments, with their companion fines.
Of course I do.
But kneeling in my garden with purple catmint waving and blooming over my head, it seems–for a moment–as if I live in a rainbow-tinted world of magic and wonder and deeply-rooted happiness.
That's the power of perspective, isn't it?
Change your point of view and some good gift becomes available that wasn't even visible before.
This column is devoted to the idea of "cultivating glory." How do we live if we long to make more space for the glory of God in our lives? What practices and disciplines can help us cultivate this kind of harvest?
I keep on discovering that it is both quite easy and profoundly difficult.
There is no step-by-step. No one-two-three. If we prefer to live out of our own strength then that is difficult news to swallow. If we are willing to relinquish control then it is very good news indeed. As Jesus promised, this yoke is light, this burden easy.
Because quite often there is little more for us to do than watch and wait.
There may be nothing more required of us than that we kneel down in the garden we have made and let its beauty astonish us.
*
Friends, I'll be "cultivating glory" with my family over the next few weeks as we dive into some start-of-summer adventures. Look for my next post in this space on June 25. Until then, peace be with you.