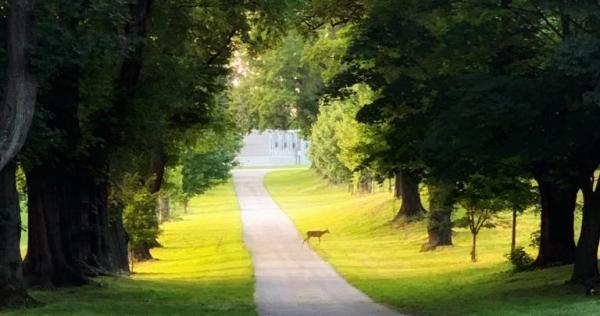 Around here, summer began with a long-anticipated trip followed by a week of jet-lag.
But even jet-lag has gifts to give: gifts like daily encounters with the summer sunrise and blurry-eyed evenings where rocking, slowly, on the front porch feels like the only possible thing to do.
For three evenings in a row, I was there, in a rocking chair on the front porch as deer nosed their way around the corner of the house.
That first night, I felt only outrage. How dare they!
My flower garden has shown all the signs of becoming a salad bar for local critters–the small, sweet Lilliput zinnias and the bright, lacy Orlaya have all had their flower heads chomped right off. But I hadn't realized it was deer (I blamed the resident groundhog), nor had I realized the deer had become so bold as to approach the house.
I clapped my hands and shouted. The deer darted quickly away before stopping in a puddle of sun-setting light down the driveway and turning back to study me. I wanted her to look frightened, but she didn't. She didn't even appear curious. In fact, equanimity was the word that came immediately to mind. She looked calm. She looked entirely self-possessed.
Last night, I rocked on the porch, and I saw the deer again. One by one, until three of them had carefully stepped around the house and crossed the driveway. This time I didn't shout or clap my hands, but the deer still paused in that evening pool of light, as if they knew it silhouetted their beautiful composure perfectly, as if they knew golden light traced their small, fine heads precisely.
The same old outrage tried to bubble up, but the scene was simply too beautiful. My outrage dissipated as quickly as it had arrived. Perhaps equanimity is contagious.
*
It is Saturday morning. The jet-lag has faded, and I am no longer a daily witness to the sunrise. But I am waking earlier than the children in my house, and in the quiet the beauty of the previous evening returns to me.
What does it mean? I ask myself.
That is always the question I ask of anything profoundly lovely. It might strike some as an odd question, but it is the question that has made me a writer and amateur (very amateur!) photographer. I am deeply moved by beauty, and I am always seeking–like a treasure hunter–for the meaning I feel sure is contained within it.
And yet, my usual question hit a false note this morning. Those visiting deer don't mean anything. I somehow felt sure of that instantly. Instead, a scrap of Scripture remembered from the authorized tome of my childhood floated through my mind:
… the peace of God, which passeth all understanding, shall keep your hearts and minds in Christ Jesus.
I am always searching for meaning, always reaching for understanding. It's how I am made. It is a good way to be.
But there are times–perhaps when we are fatigued by life or summer heat or jet-lag–when all that meaning-making is simply too much. At those times, I need simply to be kept.
What a relief, even for a moment, to stop tending my own heart and mind, to stop thinking so hard about everything under the sun. Even to stop trying to solve the problem of flower-eating creatures in my garden.
And instead?
To find myself kept and held by a peace I cannot–need not–understand.