An Argument for Activism:
As a priest of ADF it is my job to serve the land, the folk, and the gods. Each priest is allowed and required to interpret their oath in their own way. As I have worked with my priesthood, delving into my own vocation and calling I have realized that activism is a part of that work. There are some who would argue that activism doesn't have a place in a pagan church, or that speaking out about politics in a church is inappropriate. I have come to a point where I cannot agree with that opinion. My beliefs inform my action, and even more to the point, my ritual actions inform my daily ones. ADF is an orthopraxic church, wherein we practice the same way, rather than an orthodoxic church that believes in the same way. But it is inevitable that my ritual practice influences my beliefs and actions.
As a polytheist, my ritual action centers around many spirits and gods. My actions are rooted in the beauty of diversity.
As a priest of ADF I honor the Earth Mother first. My actions are rooted in putting the earth before anything else.
As a pagan, I know what it is to be in a religious minority. My actions are to protect my religious rights as well as others religious rights.
As a person I was horrified by the political promises that President Trump made on the campaign trail and was incredibly worried about what he would do in office. Not even two weeks into his presidency and I have seen my worries realized. Muslims are being detained and kept from their families. Scientists are being silenced about climate change, and the rights of the many are not being protected.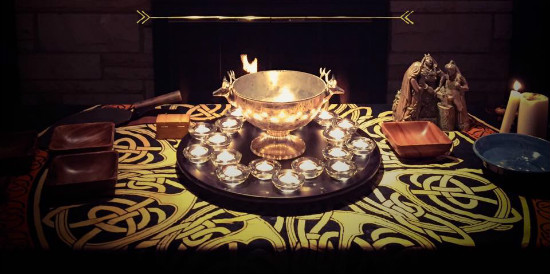 The Flame of Hope Emerges through Dialog:
As I was talking with other ADF priests online, the idea came up that we needed to take some sort of ritual action. Rev. Michael Dangler suggested lighting a flame every day and began making plans to do so. I had in the back of my mind that I would help, maybe light a candle once a week, or fill in to assist from time to time. We talked about names and came up with Tending the Flame of Hope. As the day of the inauguration approached I made my own preparations to light the flame of hope at the same time that Michael would be lighting the flame in Columbus. I was sweeping my hearth in preparation, dedicating the cleaning to the fate goddesses as I often do, but as I swept I felt an oath settle upon me almost unwilling. I realized that I had to keep the whole oath. I needed to light a candle every day of Trump's presidency. I wasn't going to be helping out. I was going to be keeping the flame every day, attempting to light a candle every day of the four years of trump's presidency. It will be 1,461 candles.
Lighting the Flame of Hope
I recorded and posted my own work as did he. Others have joined in, both from the ADF tradition as well as witches and others. We are posting images of our lit flames on www.facebook.com/TendingTheFlameOfHope/ sharing our process and deepening our devotional practice through community.

My hope is that this small practice, rooted in my orthopraxic tradition will reach out to any and all that might want to keep the flame of hope bright. I believe it will act as a reminder to everyone who sees or takes part that they too must keep the flame of hope alive. It is everyone's responsibility to keep that burning bright in their own ways. So far over 400 people have liked the page and a number of individuals have pledged to keep the flame of hope at home and in their community. I ask each of you, dear readers, how do you intend to keep the flame of hope alight?
I have one other request, dear reader. Buying and making candles takes time and money, as does the writing, organizing, and spiritwork I do on behalf of our community. Please click through to my Patreon page and consider even a small reoccurring donation to support my work. Thank you.