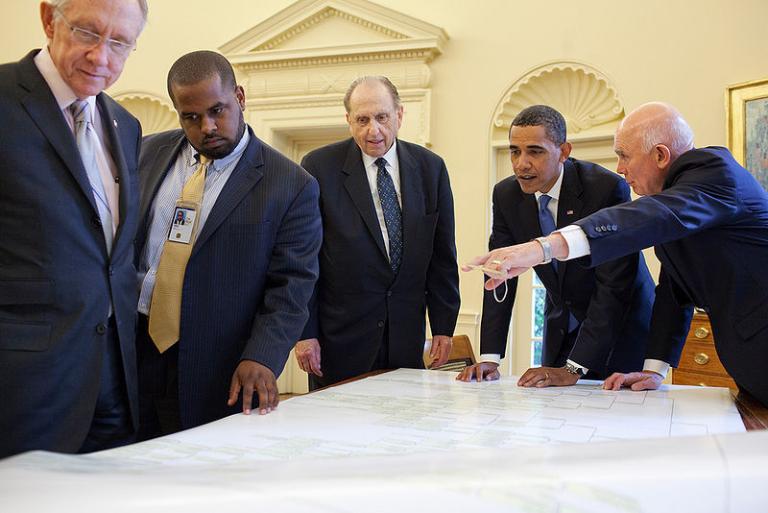 A follow-up to my earlier post on this topic:
Some are really upset, apparently, that by accepting an invitation for the Mormon Tabernacle Choir to sing at the inauguration of Donald Trump and Mike Pence, the Church of Jesus Christ of Latter-day Saints is making a political statement.
This is nonsense.
The Tabernacle Choir has already performed at the inaugural ceremonies for the Democrat Lyndon B. Johnson (1965), as well as for the Republicans Richard M. Nixon (1969), Ronald Reagan (1981), George H.W. Bush (1989) and George W. Bush (2001). So far as I'm aware the Choir has performed at every presidential inauguration to which it has been invited. Moreover, the Church has routinely welcomed presidents and presidential candidates of both major parties to its headquarters in Salt Lake City, notably including the Democrat John F. Kennedy Jr., who spoke in the Tabernacle on Temple Square. I myself was in the audience outside, many years ago, when the Democratic candidate Jimmy Carter paid a visit to the First Presidency in Salt Lake City.
Accepting the invitation to perform at the Trump inauguration isn't a political statement. Fully anticipating that controversy would ensue, I almost wish that the invitation hadn't been extended, great honor to the Choir though it is. Once the invitation had been extended, however, refusing it would have made a political statement. Accepting it doesn't.
P.S. If Mr. Trump were to invite me to Washington DC for advice and counsel — as, if he were wise, he would certainly do — I would go. Despite the fact that I publicly and vocally affiliated myself with the "Never Trump" movement at a very early point and wrote against him as energetically as I could, and despite the fact that I didn't vote for him, I respect the office of the presidency enough, and I love my country enough, that I would do so. It would scarcely be an "endorsement."