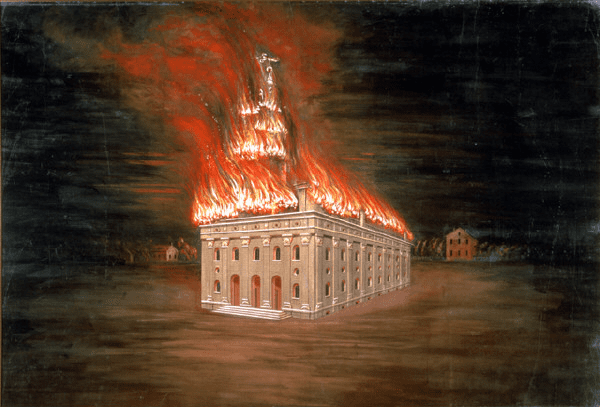 From my notes:
Joseph Smith knew that he would die at the hands of his enemies. "He well knew that he must sacrifice his life for the principles God had revealed through him," said Lucy Walker Kimball.  Yet "Death had no terrors for him although life was dear. I have often heard him say he expected to seal his testimony with his blood."[1] "He was cheerful and comforting," remembered Edward Stevenson.
He said, "I shall not be sacrificed until my time comes; then I shall be offered freely."
I heard the Prophet state, while preaching on a stand erected on the east side of the Temple, that he now saw the time he had long desired to see. "Now I am a free man," he declared. "There are men now prepared to carry out the work of the kingdom of God here on earth, and it will roll on forever. Thank God I have lived to see this day."[2]
But he was growing tired. Benjamin F. Johnson remembered a time when, "with a deep-drawn breath, as a sigh of weariness," Joseph Smith
sank down heavily in his chair, and said, "Oh! I am so tired—so tired that I often feel to long for my day of rest. For what has there been in this life but tribulation for me? From a boy I have been persecuted by my enemies, and now even my friends are beginning to join with them, to hate and persecute me! Why should I not wish for my time of rest?"
His words and tone thrilled and shocked me, and like an arrow pierced my hopes that he would long remain with us. I said, as with a heart full of tears, "Oh! Joseph, what could we, as a people, do without you and what would become of the great latter-day work if you should leave us?"
He was touched by my emotions, and in reply he said, "Benjamin, I would not be far away from you, and if on the other side of the veil I would still be working with you, and with a power greatly increased, to roll on this kingdom."
[3]
[1] $Lucy Walker Kimball, in Andrus and Andrus, They Knew the Prophet, 157.
[2] $Edward Stevenson, in Andrus and Andrus, They Knew the Prophet, 99. $Compare the testimony of Benjamin F. Johnson, as given in Andrus and Andrus, They Knew the Prophet, 108.
[3] $Recounted by Benjamin F. Johnson, as given in Andrus and Andrus, They Knew the Prophet, 109.*
I have a dedicated online critic — pseudonymous, though his real-life identity is scarcely hidden — who combines an almost obsessive fascination with my posts here with a remarkable capacity for completely missing their point.  Amusingly, he then responds with a uniquely frenetic and excited delight when, having confused his misreadings with my intentions (as he invariably does), he marvels at my utter stupidity.
I doubt that this will help him, but I'll try.  It's possible that somebody else out there is suffering from a more curable case of the same sad malady:
My point, in attempting to demonstrate Joseph Smith's sincerity, is to demonstrate Joseph's sincerity, not thereby to prove Joseph's claims true.  It's entirely and obviously possible to be sincerely wrong.  But it's also possible to be insincerely wrong, to be consciously and cynically deceptive.
Deliberate and cynical deception is one of the explanations that's commonly been offered for Joseph Smith, and I'm seeking to defend him against that particular attack.  Other methods will need to be used (and, in my judgment, are abundantly available) in order to defend him against other attacks on his credibility.
Posted from Chicago, Illinois