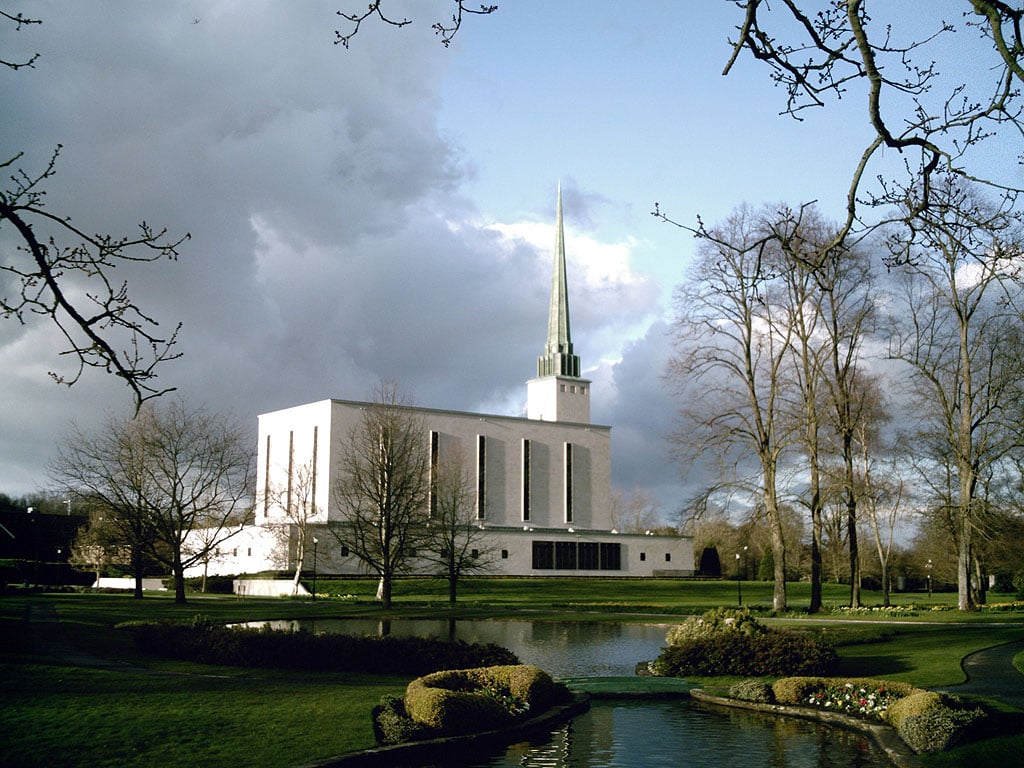 John Betjeman (1906-1984) was poet laureate of the United Kingdom from 1972 until his death:
The bells of waiting Advent ring,
The Tortoise stove is lit again
And lamp-oil light across the night
Has caught the streaks of winter rain
In many a stained-glass window sheen
From Crimson Lake to Hookers Green.
The holly in the windy hedge
And round the Manor House the yew
Will soon be stripped to deck the ledge,
The altar, font and arch and pew,
So that the villagers can say
'The church looks nice' on Christmas Day.
Provincial Public Houses blaze,
Corporation tramcars clang,
On lighted tenements I gaze,
Where paper decorations hang,
And bunting in the red Town Hall
Says 'Merry Christmas to you all'.
And London shops on Christmas Eve
Are strung with silver bells and flowers
As hurrying clerks the City leave
To pigeon-haunted classic towers,
And marbled clouds go scudding by
The many-steepled London sky.
And girls in slacks remember Dad,
And oafish louts remember Mum,
And sleepless children's hearts are glad.
And Christmas-morning bells say 'Come!'
Even to shining ones who dwell
Safe in the Dorchester Hotel.
And is it true,
This most tremendous tale of all,
Seen in a stained-glass window's hue,
A Baby in an ox's stall ?
The Maker of the stars and sea
Become a Child on earth for me ?
And is it true ? For if it is,
No loving fingers tying strings
Around those tissued fripperies,
The sweet and silly Christmas things,
Bath salts and inexpensive scent
And hideous tie so kindly meant,
No love that in a family dwells,
No carolling in frosty air,
Nor all the steeple-shaking bells
Can with this single Truth compare –
That God was man in Palestine
And lives today in Bread and Wine.
***
Over the past few years, I've noticed with some astonishment the increasing popularity — in some circles — of the so-called "mythicist" view of Christian origins, which holds not only that Jesus wasn't the divine Son of God but that he never existed at all.
I've occasionally commented on this (to me) rather strange phenomenon, as in the following two Deseret News columns, the second of which appeared on Christmas Day 2014:
"An agnostic's argument that Jesus did exist"
"He was the son of God, and 'one of us'"
And now, a reader who comments on my blog under the name of Jiminy Brunswick has called my attention to several relevant blog entries by the distinguished scholar Larry Hurtado.  Dr. Hurtado, who served as Professor of New Testament Language, Literature and Theology at the University of Edinburgh) from 1996 until his retirement in 2011, after years of teaching at the University of Manitoba, is a Fellow of the Royal Society of Edinburgh.
"Mythicism" has never really caught on among academic professionals with relevant expertise — not even among agnostics and Jews.  Lately, though, some of its internet enthusiasts have been ecstatic that Richard Carrier, an atheist activist who holds an actual Ph.D. in ancient studies, has taken up the cause.  But, as his recent blog entries make very clear, Larry Hurtado isn't exactly a fan:
"The 'Mythic' Jesus' Last Hurrah"
"Why the 'Mythical Jesus' Claim Has No Traction with Scholars"
"'Mythical Jesus': The Fatal Flaws"
"Gee, Dr. Carrier, You're Really Upset!"
"'The Real Jesus' in National Geographic"
"On Accurate Representation of Texts"
But that's not all.
Stanford University's Daniel N. Gullota, having noticed that I've written a bit about "mythicism," has kindly sent me a link to a review-essay that he's recently published in the Journal for the Study of the Historical Jesus 15 (2017): 310-346:
(He points out an error on page 333, where the phrase the man who was crucified in Palestine should be attributed to Lucian, not to Suetonius.)
To my mythicist and other readers, Merry Christmas!  Whether they like it or not.