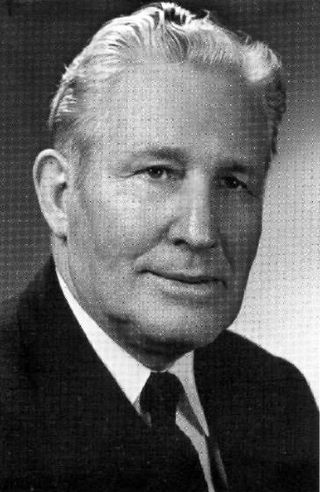 Hugh B. Brown (1883-1975), a member of the Quorum of the Twelve Apostles from Canada who served as a counselor in the First Presidency to President David O. McKay between 1961 and 1970, reported an event not too very long before his death that his nephew, Harold B. Lee, recorded in his journal and later shared:
"He [Elder Brown] said it was not a vision, but the Lord appeared to him, very informal, the same as I was sitting talking to him. The Lord said, 'You have had some difficult times in your life.' Uncle Hugh responded, 'Yes, and your life was more difficult than any of us have had.' In the conversation Uncle Hugh asked when he would be finished here, and the Lord said, 'I don't know and I wouldn't tell you if I did.' Then He said, 'Remain faithful to the end, and everything will be all right.'"
Cited in G. Homer Durham, N. Eldon Tanner: His Life and Service (Salt Lake: Deseret Book, 1982), 254-256.
***
And now from the sublime to the . . . well, to the not-so-sublime . . .
It's too late to affect the vote, but this is a good article:
"The Comprehensive Case against Roy Moore: There is no good reason for a faithful conservative to support this man."
***
Within a few hours at most, we should know whether the United States Senate will be graced with Roy Moore or not.  However, the significance of this article goes beyond Mr. Moore:
"Roy Moore and the Decline of the Conservative Mind"
Many have been stunned by the sudden rise of the religious "nones," especially among younger age groups.  Those who view that rise with satisfaction tend to see it as reflecting a sudden surge in intelligence, information, scientific literacy, and/or general understanding — something that I find extremely difficult to credit, since I've detected no evidence of such a surge.  (If anything, candidly, I think the trends lie in the contrary direction.)
Sometimes I wish that I had another lifetime ahead of me, and the time to become a social scientist.  Because I'm intrigued by the possibility that the psychological changes and the declining interpersonal and community bonds mentioned passingly in this article are the real factors in the emergence of the "nones."
After all, it's not just churches that are losing membership.  The same things have been happening to fraternal and other non-religious organizations, as well as to marriage and family-formation.
***
Speaking, though, of marriage and family-formation:
"Mormon temple marriage featured on Refinery 29's 'World Wide Wed' web series"
***
On a currently controversial issue:
"Statement from LDS church about practice of clergy interviews, including with children"