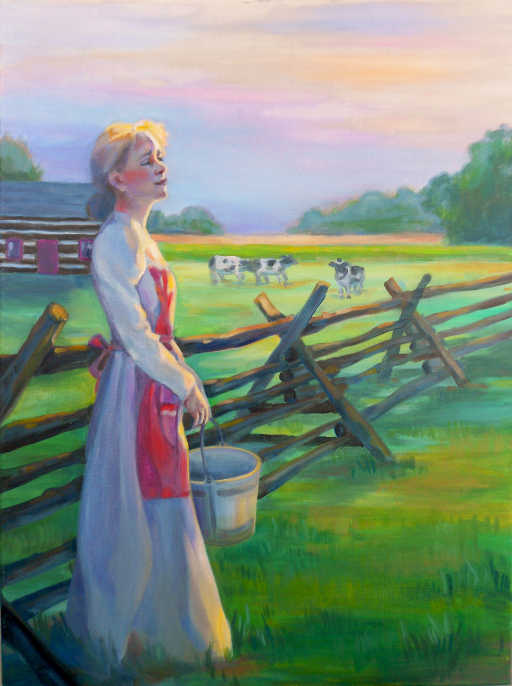 David Whitmer was the last surviving witness to the Book of Mormon, living until 1888.  His last five decades were spent outside of the Church of Jesus Christ of Latter-day Saints and isolated from fellow believers, but he never denied — in fact, he often reaffirmed — his testimony of the book.
Here are two adjacent and related passages from his account, as reproduced in Hyrum L. Andrus and Helen Mae Andrus, Personal Glimpses of the Prophet Joseph Smith (American Fork, UT: Covenant Communications, 2009):
When I was returning to Fayette [New York, from Harmony, Pennsylvania], with Joseph and Oliver, all of us riding in the wagon, Oliver and I on an old-fashioned, wooden, spring seat and Joseph behind us,; while traveling along in a clear open place, a very pleasant, nice-looking old man suddenly appeared by the side of our wagon and saluted us with, "Good mornnig, it is very warm," at the same time wiping his face or forehead with his hand.
We returned the salutation, and, by a sign from Joseph, I invited him to ride if he was going our way.
But he said very pleasantly, "No, I am going to Cumorah."  This name was something new to me, I did not know what Cumorah meant.  We all gazed at him and at each other, and as I looked around inquiringly of Joseph, the old man instantly disappeared, so that I did not see him again.
I noticed his appearance.  He was, I should think, about 5 feet 8 or 9 inches tall and heavy set.  His face was as large, he was dressed in a suit of brown woolen cloth; his hair and beard were white.  I also remember that he had on his back a sort of knapsack with something in it shaped like a book.  It was the messenger who had the plates, who took them from Joseph just prior to our starting from Harmony.  (42-43)
Some time after this, my mother was going to milk the cows, when she was met out near the yard by the same old man (judging by her description of him) who said to her:  "You have been very faithful and diligent in your labors, but you are tired because of the increase in your toil; it is proper therefore that you should receive a witness, that your faith may be strengthened."
Thereupon he showed her the plates.
My father and mother had a large family of their own; the addition to it, therefore, of Joseph, his wife Emma, and Oliver very greatly increased the toil and anxiety of my mother.  And although she had never complained, she had sometimes felt that her labor was too much, or at least she was perhaps beginning to feel so.  This circumstance, however, completely removed all such feelings and nerved her up for her increased responsibilities.  (43)
Compare "Mary Whitmer, 12th witness to the Book of Mormon."