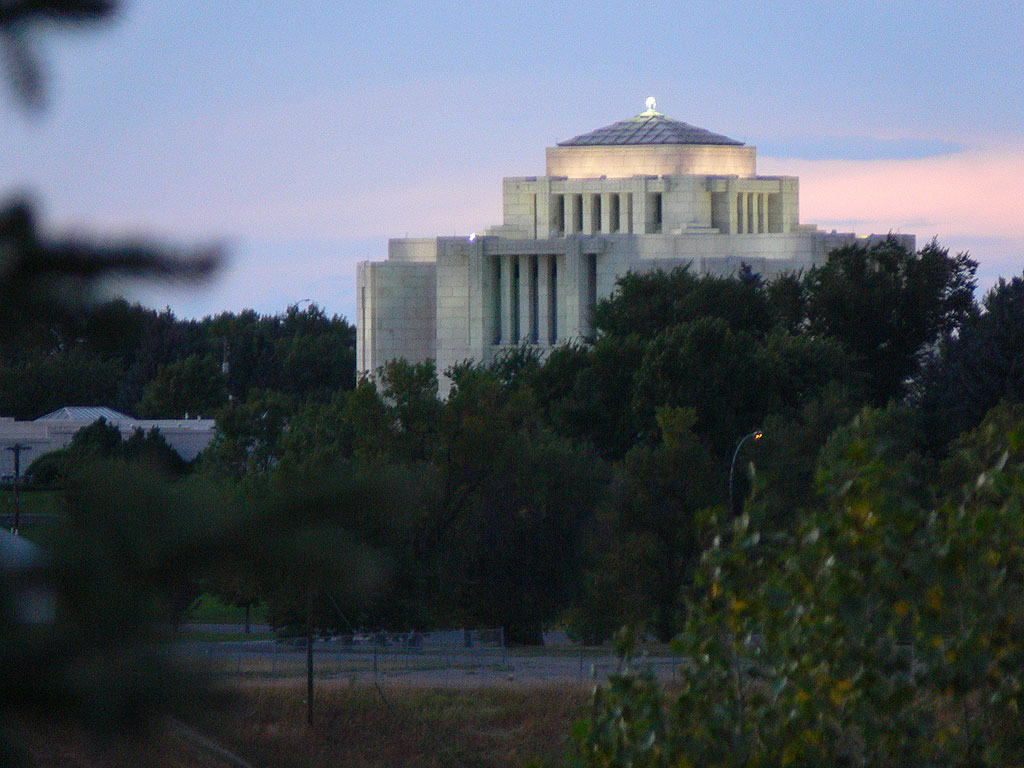 When I was growing up and beginning to become somewhat aware of the Church — I grew up in a part-member family, with a mother who was semi-active — Hugh B. Brown (1883-1975) was the First Counselor in the First Presidency of the Church of Jesus Christ of Latter-day Saints.  And, since President David O. McKay was, by that point, in declining health, it was President Brown who was, to me, the most visible and most authoritative of Church leaders.  I found him very, very impressive.  And I still do.
His parable of the currant bush is a classic, as is his marvelous Profile of a Prophet — which I actually know better in German as Das Wesen eines Propheten than I know it in English.  (I'm not sure that I'd heard it in English before I played it multiple times for investigators on my German-speaking mission.)
President Brown is, for obvious reasons, not as well known today as he was then.  So I would like to share a few passages from him here:
"Even as water carves monuments of stone, so do our thoughts shape our character."
"Revealed insights should leave us stricken with the knowledge of how little we really know. It should never lead to an emotional arrogance based upon a false assumption that we somehow have all the answers — that we in fact have a corner on truth. For we do not."
"No matter what your past has been, your future is spotless."
"Seek the truth in all fields, and in that search you will need at least three virtues: courage, zest and modesty. The ancients put that thought in the form of a prayer. They said, 'From the cowardice that shrinks from new truth, from the laziness that is content with half truth, from the arrogance that thinks it has all truth – O God of truth, deliver us.'"
"Every man is a diary in which he writes one story while intending to write another. His humblest moment is when he compares the two."
"Sometimes during solitude I hear truth spoken with clarity and freshness; uncolored and untranslated it speaks from within myself in a language original but inarticulate, heard only with the soul, and I realize I brought it with me, was never taught it nor can I efficiently teach it to another."
"Night never had the last word. The dawn is always invincible."
***
An article by William Hamblin and Your Obedient Servant appeared this morning in the Deseret News.  Some of you might find it interesting:
"Armenia, the first Christian nation"
***
And I suspect that even a few non-sports-fans might enjoy this blog entry from Jeff Lindsay:
"Jimmer Fredette, the 'Lonely Master,' Might Be Doing Better and Doing More in China than the Deseret News Thinks"
***
An item on an important issue, from Book of Mormon Central:
"How Can We Know What to Believe about Joseph Smith's Personal Character?"
***
Here's a nice article in The Daily Telegraph from Emily Kwok, the director of public affairs for The Church of Jesus Christ of Latter-day Saints in New South Wales, Australia, explaining the Latter-day Saint reaction to the musical The Book of Mormon:
"Why we take Book of Mormon in good humour"
***
Just a reminder:  The weekly Interpreter Radio Show will be on air again this Sunday evening, starting at 7 PM (Utah time) and running now for not just one but two hours.  In the greater Salt Lake City area, you can hear it on K-Talk, which is located at 1640 AM.  But you can hear it elsewhere, too.  (I've personally listened from both Arizona and Hawaii.)  This can be done via K-Talk's website.