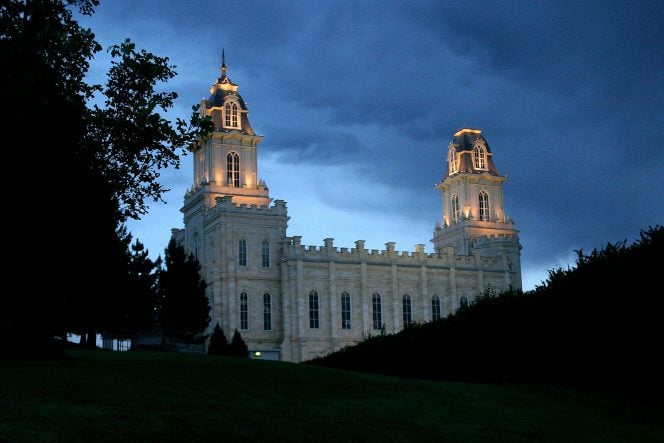 Yesterday was the first Thursday in roughly eight years that the Deseret News hasn't carried a column by me.  Doing the articles only every other week rather than weekly is going to be an adjustment.  It had became a habit — a regular, structuring element of my weekly routine.
***
We went down to Levan just about directly from the airport yesterday for the funeral of my Aunt Floy, who passed away on Sunday evening.  She was 97 years old, the last survivor among my parents, aunts, and uncles.  The last of that great generation.  My brother also being gone, there is nobody who can answer the sorts of questions that I sometimes now have about family history.  It's a sobering feeling.
She was a favorite of mine, the very embodiment of kindness, humility, love, and commitment to family.  She had suffered a bout of pneumonia a month or two before, and we had been worried.  But she had bounced back yet again and, when my wife and I visited her two or three weeks ago, she was enjoying a Utah Jazz game and was as clear and as engaging a conversationalist as ever.  A remarkable woman.
Aunt Floy had apparently asked that I participate in her funeral, and I was very honored to do so.  (I was thinking about her on Wednesday morning in the Laie Hawaii Temple; some of the temple ordinances can, of course, be viewed as a ritual prefiguration of the path that all of us will eventually take.)
I myself am now significantly closer to my funeral than I am to my birth, and, sitting there at her service and listening as she was sincerely praised for her many wonderful qualities, I thought about what an excellent exercise it is to consider what one would like people to be able to accurately say at one's parting — and then to set about behaving in such a manner that such things can be honestly said.
***
Amazingly, a new article (by Matthew Bowen) has appeared in Interpreter: A Journal of Mormon Scripture this week:
"'Swearing by Their Everlasting Maker': Some Notes on Paanchi and Giddianhi"
***
A podcast interview with Shon Hopkin is now available through the Interpreter Foundation website:
***
If you're a student or a teacher in a Gospel Doctrine class, be sure to check out Jeff Bradshaw's Old Testament "KnowWhy's" on the Interpreter Foundation website:
http://interpreterfoundation.org/category/gospel-doctrine-knowhys/old-testament-knowhys/
***
A day or two ago, I noticed a description of the Interpreter Foundation as merely my personal vanity project.
Very perceptive!
It's true, of course.  I use a variety of false identities in connection with Interpreter, several of which are shown here.  Sometimes I write under the name of "Matthew Bowen."  Sometimes I write as "Jeffrey Mark Bradshaw."  Occasionally, I'll do an interview as "Shon Hopkin," or moderate a radio program in the guise of "Martin Tanner," or make a movie about my mythical life as an organist and composer named "Robert Cundick."  Mwahahahaha!  And these are only a few of my pseudonyms.