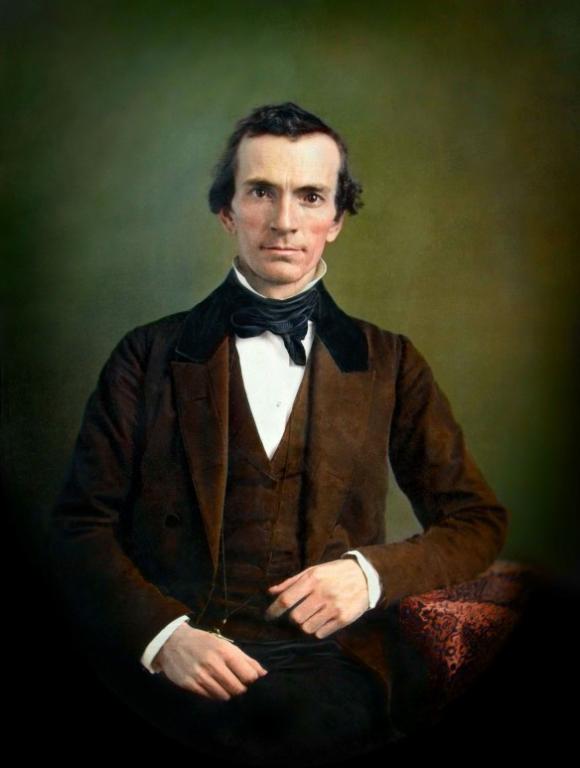 In October of 1848, a decade after he had been excommunicated from the Church of Jesus Christ of Latter-day Saints and more than four years after the assassination of the Prophet Joseph Smith, Oliver Cowdery, one of the Three Witnesses to the Book of Mormon, traveled to Council Bluffs, Iowa, with his wife and daughter. The Latter-day Saints had been driven from Nauvoo, Illinois, the city that they had established on the eastern bank of the Mississippi River, and they were making their way as homeless exiles westward toward the unsettled Great Basin territory. It was not a particularly auspicious time to rejoin them, but Oliver Cowdery did so, both literally and figuratively. He was rebaptized in Council Bluffs.
Here follow excerpts from his remarks to a conference of the Saints there, as reproduced in Hyrum L. Andrus and Helen Mae Andrus, Personal Glimpses of the Prophet Joseph Smith (American Fork, UT: Covenant Communications, 2009), 40:
Friends and Brethren — My name is Cowdery, Oliver Cowdery. In the early history of this Church I stood identified with her, and was one in her councils. I wrote with my own pen, the entire Book of Mormon (save a few pages) as it fell from the lips of the Prophet Joseph Smith, as he translated it by the gift and power of God. I beheld with my eyes and handled with my hands the gold plates from which it was transcribed. I also saw with my eyes and handled with my hands the "holy interpreters." That book is true. Sidney Rigdon did not write it; Mr. Spaulding did not write it; I wrote it myself as it fell from the lips of the Prophet.
I was present with Joseph when an holy angel from God came down from heaven and conferred on us, or restored, the lesser or Aaronic Priesthood, and said to us, at the same time, that it should remain upon the earth while the earth stands.
I was also present with Joseph when the higher Melchizedek Priesthood was conferred by holy angels from on high. This Priesthood we then conferred on each other, by the will and commandment of God. This Priesthood, as was then declared, is also to remain upon earth until the last remnant of time. This Holy Priesthood, or authority, we then conferred upon many and is just as good and valid as though God had done it in person.
***
The question of horses (and other animals and plants) in the Book of Mormon has been a staple of critics over the nearly two centuries since the Book first appeared in English. Here are some recent items on the subject from the believing perspective:
"Animals in the Book of Mormon: Challenges and Perspectives"
"'Hard' Evidence of Ancient American Horses"
"Update on Horses in the Book of Mormon"
"Where Horses Can Take You, and My Quest for Li Jing (李荆)"
"Plants and Animals in the Book of Mormon: Some Solutions to Apparent Problems"
***
In view of the angry reaction of a few Church members to my article on Islam in the current issue of the Ensign, I think it worthwhile to call attention to some of the Church's efforts to build bridges and to cooperate with other faiths:
"Interfaith Relations: Interfaith Efforts of The Church of Jesus Christ of Latter-day Saints"