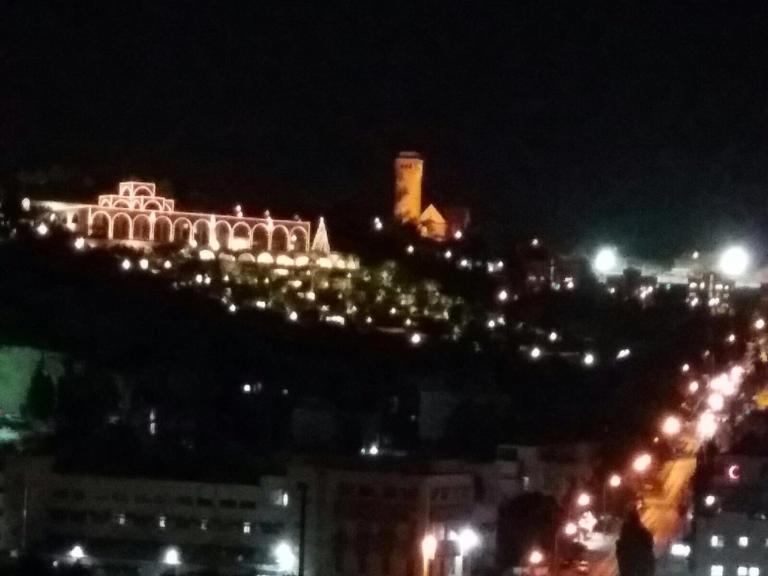 Continuing with the story:
Such attempts at conciliation did not, however, pacify the most militant opponents of the center. Throughout its three years of con­struction, hysterical articles appeared in local newspapers and in the American Jewish press about the Mormon "threat" to Judaism and to the holy city of Jerusalem. (During one period lasting some­what less than three weeks, 345 articles appeared in the Israeli press about the Latter-day Saints and their building.) The center, it was alleged, was merely a front for LDS missionaries. The students enrolled in its programs would not be real students, but undercover agents of the Mormon Church. Some of the allegations were actu­ally flattering, in a twisted sort of way. For example, the Latter-day Saints were said to be dispatching "beautiful blonde women"— apparently BYU coeds—to Israel in order to lure Jewish boys away from their religious upbringing. They were also conspiring, with their Saudi Arabian allies, to create a vast and dangerous interna­tional financial empire. Other charges were harder to read in a pos­itive light. It was argued by some that the Mormons were "desecrating" Mount Scopus, the hill upon which the center was to stand. For a while, a number of agitators claimed that the site was actually an ancient Jewish cemetery; repeated denials of that claim by the Israeli archaeologist assigned to the site excavations were only gradually able to allay the concerns it had aroused.
Jerusalem's legendary, long-time mayor Teddy Kollek was personally vilified for his support of the Mormons and was even accused of accepting bribes from them as the price for his alleged betrayal of the Jewish people. Orthodox Jews demonstrated and prayed in front of the homes of David Galbraith and other Church and university leaders. Anony­mous callers threatened prominent Mormons over the telephone and even tapped their phones, hoping perhaps to discover the sor­did truth that lurked behind the Saints' seemingly innocent faces. Thousands of Orthodox Jews demonstrated at the so-called Wailing Wall. Drives were organized to raise funds and to gather signatures on petitions designed to "fight the Mormons." Anti-Mormon bumper stickers appeared on autos and trucks throughout Israel. Handwritten anti-Mormon slogans appeared on Israeli currency. Vandals damaged the place where the Jerusalem Branch held its sabbath meetings. Demonstrations near the center on Mount Sco­pus included the singing of such heart-warming lyrics, addressed to the Latter-day Saints, as "You better run for your life/Back to Utah overnight." Even Ed Decker, the charlatan and professional apostate who founded Ex-Mormons for Jesus and created the notorious pseudo-documentary film The God Makers, brought his traveling show to the city.
Posted from Washington DC