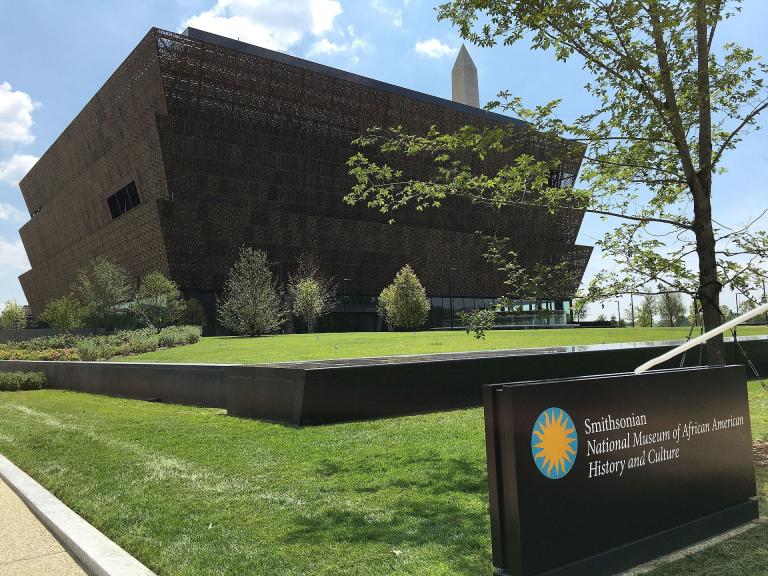 Our most significant activity of Wednesday was a visit to the magnificent and still relatively new National Museum of African American History and Culture — the Museum opened on 24 September 2016 — which I recommend very enthusiastically.  It's entertaining, inspiring, touching, and sobering, by turns.  And the story that it tells positively demands a future life in which the sufferings of this one, for so many of God's children, might be compensated and rewarded.  In this context as in others, I take very seriously the words of the Prophet Joseph Smith that I've had so many occasions to cite:  "All your losses will be made up to you in the resurrection, provided you continue faithful. By the vision of the Almighty I have seen it."
Somebody told my wife that the Museum can be pretty adequately seen in about two solid hours.  I'm here to tell you that that's completely false.  Two solid hours might be enough to do rough justice to about half of one of its seven floors.  But be sure to reserve a pass in advance; the odds of your simply being able to walk right in without such a pass are very, very low, and will remain low at least until September.
Do you like jazz?  There's great stuff here.  Rock and roll and R&B?  Fantastic memorabilia.  Are you interested in the fight against segregation?  It's a marvelous resource for that.  The Civil War?  Excellent.  And on and on and on.  From about AD 1400 to the present.
I always leave really fine museums — and this is a really fine museum — rather depressed.  There's so much to see and to read and to remember and appreciate, and so little time.  That's how I felt today.  It would be easy to spend a very full and very productive week in this museum.
***
The work of recovering African American history continues, and I'm very pleased to say that the Church of Jesus Christ of Latter-day Saints is substantially invested in it, having partnered, no less, with the National Museum of African American History and Culture:
Family Search:  African American Genealogy Records
***
Moreover, the work of salvation continues:
"Brazil in 1978: How a revelation and a temple changed everything"
"How the June 1978 priesthood revelation changed the lives of the Martins family in Brazil"
***
He inviteth them all to come unto him and partake of his goodness; and he denieth none that come unto him, black and white, bond and free, male and female; and he remembereth the heathen; and all are alike unto God, both Jew and Gentile.  (2 Nephi 26:33)
Posted from Washington DC