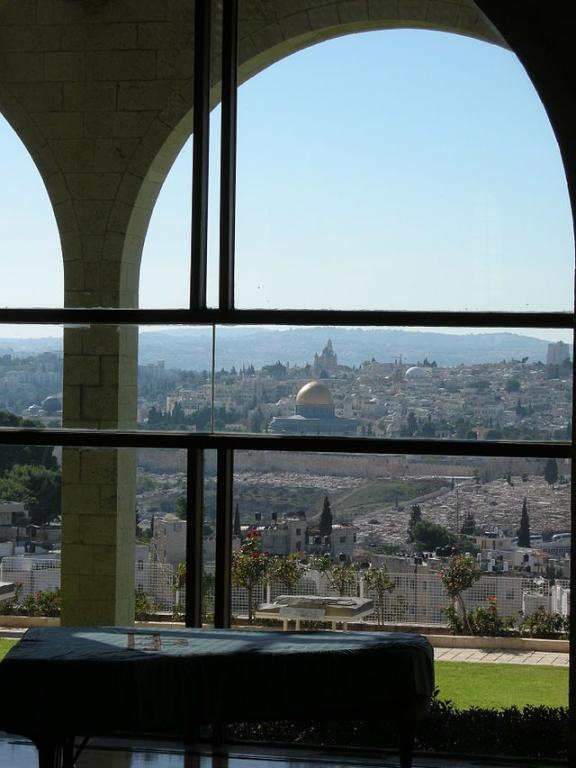 On and on and on it goes . . .
For some time thereafter, no matter how careful we were, some new and usually rather ridiculous charge would still occasionally surface. One amusing instance of this was the accusation published by an Orthodox Jewish newspaper in both Jerusalem and New York during October 1987 that the nefari­ous Mormons were using their building's highly visible location to impose a large illuminated cross on the nighttime horizon of Jerus­alem. And it was true! (Sort of.) At night, when all the rooms on the sixth level had their lights burning, and when the lights were on in the stairway that runs down the center of the building, an imaginative person could make out a kind of electric cross. Denials that the appearance of a cross was intentional carried no weight with the critics, needless to say. Nor did it help to point out that, in contrast to other Christian groups, Latter-day Saints don't use the cross in their architecture or liturgy—a fact for which we are routinely assailed and assaulted by Protestant anti-Mormons. Finally, offi­cials of the center simply had to make sure that lights on the sixth level were either turned out or that the windows were covered when they were on.
But these little skirmishes mean little. The battle had been won. The building had been completed, despite intense opposition. What does it mean? Perhaps no one fully knows. Sitting on slightly more than four acres and with a total floor space of 103,420 square feet, Brigham Young University's Jerusalem Center for Near Eastern Studies is among the most beautiful buildings in Jerusalem and is certainly one of the most visible. (Indeed, it has itself become a tourist attraction that draws thousands of Israelis.) Like a waterfall, it flows down the slope of Mount Scopus. Its many levels are adorned with Italian marble and Burmese teakwood. Its Danish- built organ is one of the finest in the Middle East. From its upper auditorium, where sabbath services are now held for students enrolled in its academic programs and for other local members of the Church and visiting tourists, a breathtaking panoramic view of the Old City of Jerusalem can be seen through three walls of plate-glass windows. Through them, too, the sadness and strife of occupied East Jerusalem can also sometimes be seen, as, behind the pul­pit, clouds of tear gas and smoke arise from the ongoing conflicts that rend the City of Peace.