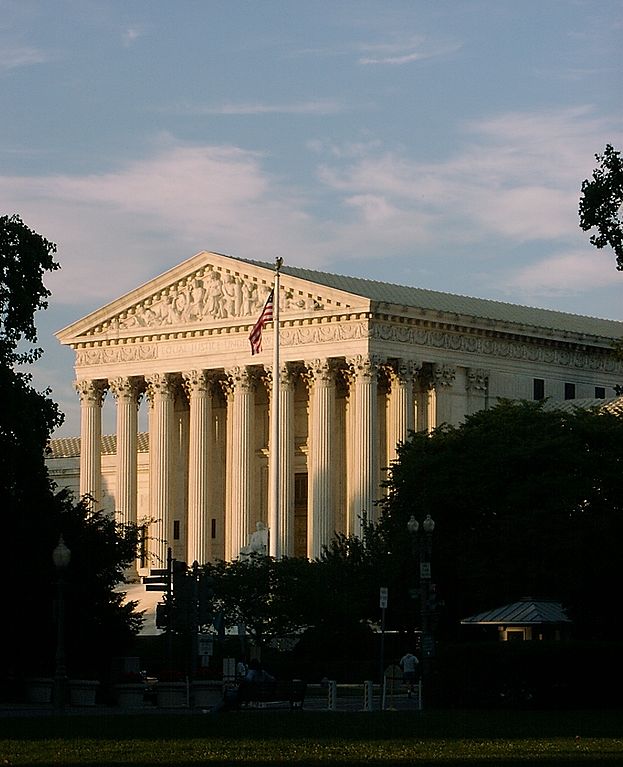 For an earlier post on the same subject, see
"Thoughts on the Supreme Court of the United States"
News reports indicate that President Trump will name his nominee to replace Justice Anthony Kennedy on the Supreme Court of the United States come Monday evening.
It's urgent, therefore, if I'm intending to post some more links to articles about possible nominees, that I do so soon, before most of these beautiful links that I've been accumulating are irrelevant.  So here goes:
Amy Coney Barrett continues to be ranked among the frontrunners to fill the vacancy on the Court:
"Judge Amy Barrett criticized for charismatic affiliation– Who are the People of Praise?"
"Is it anti-Catholic to ask a Supreme Court nominee how her religion affects her decisions?  Amy Coney Barrett, who is on President Trump's short list, has written about how religious views and judicial views intersect — and sometimes collide."
A hyperpolitical (and occasionally rather cynical, but very interesting) view of her possible nomination:
"Tick, tick, tick: Will Donald Trump play the 'handmaiden' card, lighting a SCOTUS fuse?"
This is a very Catholic religious take on Judge Barrett as a serious, committed Christian:
"Amy Barrett Has the Right Idea"
Here's a full-throated endorsement of Judge Barrett by Princeton University's brilliant and heroic Robert George, a scholar for whom (if it isn't already obvious!) I have enormous admiration:
Here's another endorsement:
"A Personal Case for Justice Amy Coney Barrett"
***
However, Raymond Kethlidge has come roaring up of late among the leading candidates for the nomination:
"Conservatives see Kethledge as 'Gorsuch 2.0′"
"Judge Kethledge — Integrity & Originalism"
"Judge Raymond Kethledge and the Second Amendment"
"Why Ray Kethledge has the character to be a Supreme Court justice"
***
But Brett Kavanaugh should not be overlooked.  He continues to show up on every list of leading candidates for the Supreme Court:
"Judge Brett Kavanaugh: A Warrior for Religious Liberty"
***
And now, it seems, Thomas Hardiman has come forward as perhaps the fourth of four frontrunners for soon to be vacant seat on SCOTUS.  (I mention him for the sake of completeness.  Unfortunately, to this point I have little in my files about him.  But you can read some basic information here:
https://en.wikipedia.org/wiki/Thomas_Hardiman
***
Of course, Donald J. Trump is very fond of surprises, so the nominee may not actually be among the four "frontrunners."  (Who identifies these "frontrunners," anyway?)  I wouldn't even put it past Mr. Trump to have engaged in some intentional misdirection.  Not that he's done it, of course.  But he might have.  We'll know on Monday evening.
***
There's a broader issue that transcends this particular seat on SCOTUS:
"Is the Conservative Movement for Supreme Court Reform Dead?"
***
These items don't relate to the Supreme Court of the United States, but they illustrate the importance and the necessity of appointing constitutionalist judges to the bench everywhere that this can be done:
"Wisconsin Supreme Court Rules Marquette Wrongly Fired Conservative Professor"
"The Wisconsin Supreme Court Strikes a Blow for Academic Freedom"
Posted from Newport Beach, California