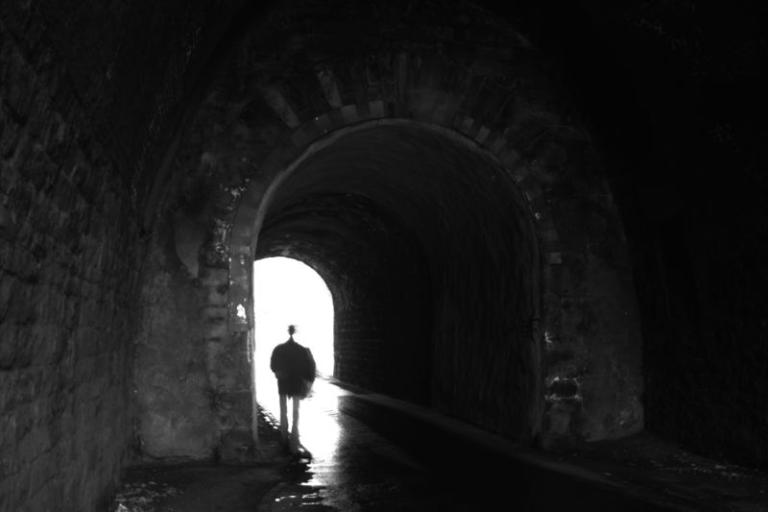 I share a note from one of my still-incomplete book manuscripts:
In accounts of near-death and out-of-body experiences collected from Pacific island cultures, tunnels as such do not occur, but subterranean passages do.  Such reports suggest that, while the specific concept of a "tunnel" may not be cross-cultural—narrators from simple, preindustrial cultures unfamiliar with tunnels are unlikely to use such terminology—but that a transitional period of darkness may nonetheless be.[1]  (The "long golden corridor" mentioned in the passage from Osis and Haraldsson, just cited, may well simply be a long corridor reflecting a brilliant golden light coming from its opposite end.) Vicky Umipeg, blind from birth, speaks of a "tube" with light at the end.[2]  An account told to one of my neighbors and recounted by her in a self-published book will serve to illustrate something reported by many who have had the experience:
Suddenly I found myself in this tunnel.  Though I was alone, I was not afraid.  The walls of the tunnel were so unusual.  I kind of floated over to touch them—this instead of actually walking.  The sides of the tunnel felt very rough.  I then semi-floated on, noticing I was wearing clothing of an unusual material that I could not recognize.  It was at once soft, but very durable.  The whiteness was like no earthly whiteness I know.
As I continued along this path, suddenly I heard a voice speak to me.  We began to communicate, more through telepathy than spoken words.[3]
[1] Kellehear, Experiences near Death, 31-32, 35.
[2] As reported at Ring and Cooper, Mindsight, 25.
[3] Debra McCarty, One Small Candle: Sarah's Story (Baltimore: AmErica House, 2002), 114.
Someday, I hope to finish a few of these!
***
In this connection, I'd like to share an interesting article from U.S. News & World Report:
"Near Death, Seeing Dead People May Be Neither Rare Nor Eerie: Beth Roncevich's father was in his last few days of life when laughter unexpectedly emerged. "He said, 'Everybody's together and we're all just having a wonderful time,'" she said."
Unfortunately, I don't recall who first called the item immediately above to my attention.  (I like to give him or her credit, both because it's the right thing to do and because I hope to encourage folks to continue to send interesting things my way.)  It may have been Cody Quirk.  In any event, I'm grateful.
Posted from Las Vegas, Nevada