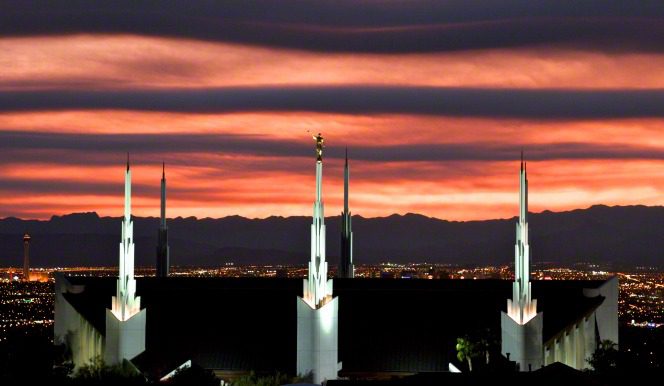 Well, FreedomFest 2018 is complete.  (I'll make my final report on Monday, most likely.)  And I've enjoyed it immensely.  I hope that a few of you will have the chance, someday, to attend one of these.
That said, I have to say that, for me, the fascinating economic and political issues discussed here don't, as it were, reach all the way down.  That is to say that, again for me, economics and politics don't satisfy.  The generation of wealth and even the defense of liberty don't touch on the eternal issues.  And if I thought that this life were all that we have, they would not be enough to compensate for the brevity of it all and the ultimate pointlessness of existence.  More than a few here are devotees of Ayn Rand and her atheistic "Objectivism."  I understand the appeal of her writing, to a degree.  I myself went through an intense Ayn Rand phase between the ages of about fifteen and seventeen.  And there are aspects of her thinking that I still appreciate.  In the end, though, I find Objectivism an utterly depressing and bleak worldview.
***
Here are some LDS-related stories:
"Baseball Phenom from Dominican Republic Passes on $700K to Serve Mission"
"LDS Man Creates Hilarious Baby Name Generator Based on Actual Utah Baby Names"
"Mormons Around the World Country Newsroom Websites July 13, 2018"
***
The 24 June 2018 iteration of the Interpreter Radio Show is now available for listening via the Interpreter website:
Steve Densley, Craig Foster, and Matt Bowen joined together on the evening of 24 June to discuss a number of topics, including the deaths of John Tvedtnes and Stephen Robinson; their contributions to LDS scholarship; the parable of the bicycle; LDS concepts of faith, works, and grace; the recent announcement of new youth interview guidelines; Steve Densley's recent trip to Egypt and shadows of ancient temple worship; the Joseph Smith Papyri, translation of the Book of Abraham, and the temple endowment; and Jeff Lindsay's Interpreter article about Joseph Smith's cosmology and the cosmology of modern Chinese science fiction.
The Interpreter Radio Show is broadcast live on Sunday nights, between 7 PM and 9 PM, Utah time, on AM 1640,K-TALK Radio.  It can also be heard live (just about anywhere) via the K-TALK website:
***
"Some critics still falsely claiming Old World Bountiful and the River of Laman are Impossibilities"
***
I close with a quotation from Elder Hugh B. Brown (1883-1975), who served as an apostle from 1958 until his death, and as a counselor in the First Presidency of the Church of Jesus Christ of Latter-day Saints from 1961 until 1970:
"Seek the truth in all fields, and in that search you will need at least three virtues: courage, zest and modesty. The ancients put that thought in the form of a prayer. They said, 'From the cowardice that shrinks from new truth, from the laziness that is content with half truth, from the arrogance that thinks it has all truth – O God of truth, deliver us.'"
Posted from Las Vegas, Nevada