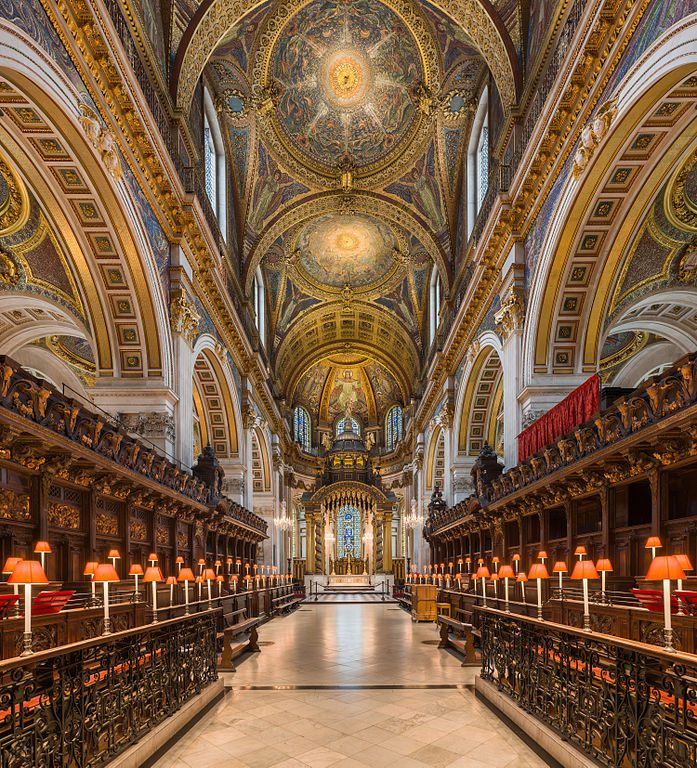 I love choirs and choral music.  And choral music, both historically and still today, is predominantly based upon religious themes.
A personal favorite — one among many — is "O Lord, I would hear thy word," from the 1974 oratorio The Restoration, by the late Latter-day Saint composer (and BYU faculty member) Merrill Bradshaw.  I myself sang this piece once, in a double quartet in Jerusalem.  Here are the lyrics:
O Lord, I would hear thy word,
Which thou sendest me in thy mercy.
Unseal my heart, that I may lift it unto thee.
Unlock my searching spirit, that I may seek thee.
Heal thou my deafened ears.
Touch thou my blinded eyes.
Increase my joy in thee, that I may rejoice in thee,
Thou Holy One of Israel,
That I may sanctify thy name.
Amen.
One sign, to me, of the cultural impoverishment of atheism, is what it would do to our heritage of choral music.  It would erase it.  Or, at least, it would inspire few if any additions to the choral literature.
Without churches, there would be very few choirs.  Without churches, very few people would ever sing.
The world would be a much, much poorer place without such pieces as Vivaldi's Gloria, Schubert's Mass in G, Händel's Messiah, Cundick's The Redeemer, Mozart's and Verdi's Requiems, Beethoven's Christ on the Mount of Olives, and Bach's St. Matthew Passion.  Which is to say nothing of the great Christian hymns.
The cultural price that we would pay if religious faith were to wither away would be enormous and, from my vantage point, catastrophic.  And the substantial loss of choral music would represent a mere fraction of the total price.
***
Here's a nice piece from Book of Mormon Central, accompanied by a newly-unveiled painting that depicts a remarkable experience had by the mother of David, Christian, Jacob, John, and Peter Whitmer, Jun.:
"What Does Mary Whitmer Teach Us About Enduring Trials?"
Mary Whitmer will be included in the film that we've undertaken under the auspices of the Interpreter Foundation.
***
I got a kick out of this video on YouTube, and hope that you will, as well.  It's slightly more than four minutes long:
"How Joseph Smith FAKED the Book of Mormon — Secret Truth Revealed At Last!"