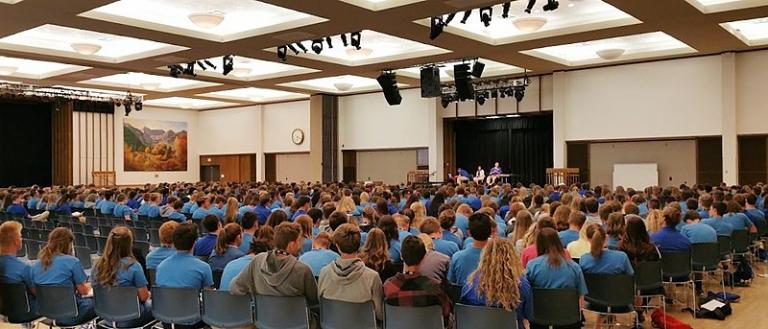 For anybody who plans on attending BYU's Education Week this year, which runs from 21 August through 24 August, I'll be speaking from 12:30 PM to 1:25 PM in the ballroom of the Wilkinson Student Center, on the theme of "Pivotal Figures in Religion and Politics in Early Christianity."  This is actually a series of lectures that I delivered at the 2012 BYU Education Week, but the powers-that-be asked me to repeat it again this year.
Many figures would be worthy of discussion under the series title, but, for the limited time afforded by these lectures, I've chosen to profile Constantine the Great, Eusebius of Caesarea, Athanasius and Arius, and Justinian and Theodora on the four days.
***
And, in case there's anybody out there who might happen to be in the vicinity of Sydney, Australia, on 27 November 2018, I'll be delivering the Seventh Annual Religious Liberty Lecture at the University of Notre Dame Australia, in Sydney, sometime that day:
https://www.notredame.edu.au/events-items/annual-religious-liberty-lecture
It is, I confess, a somewhat intimidating assignment.  Previous lecturers in the series have included Cardinal George Pell of Sydney ("The meaning of religious freedom and the future of human rights") and Elder Quentin L. Cook, who is not only an apostle but a Stanford-educated lawyer (see "Elder Cook Calls for Global Effort to Protect Faith and Religious Freedom: Apostle Gives Law School Lecture in Australia" and the full transcript of his remarks).
I believe that I may be doing some other lectures in other Australian locations, as well, but the details have not yet been worked out.  When I know them, I'll post them.
***
On 19-22 October 2018, I will be speaking in the Calgary and Lethbridge, Alberta areas, including what is shaping up to be a Regional YSA Conference for YSA members from all of Alberta and parts of Saskatchewan and British Columbia on Saturday, 20 October.  There are developing plans, I think, for a multi-stake fireside in Lethbridge on Sunday, 21 October, and perhaps a special sacrament meeting that day, as well.  Further details on the way.
***
On 27 October 2018, I'll be speaking in Ephraim, Utah, on the Witnesses to the Book of Mormon.  My remarks will be part of a broader program, which is, I think, under the auspices of the "History of the Saints" organization.  Further details will be forthcoming.
Posted from Park City, Utah