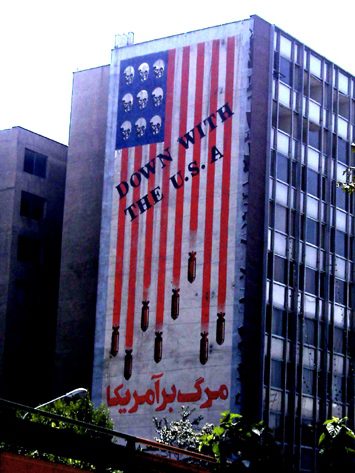 Many years ago, back during the relatively moderate Iranian presidency of Seyyed Mohammad Khatami, I was invited to participate as an all-expense-paid guest in a conference in Tehran that focused on the thought of the early seventeenth-century Iranian philosopher Mulla Sadra.
Then as now, going to Iran as an American was slightly unusual, and it remains one of the most interesting experiences I have ever had.  I think, accordingly, that I'll jot down a few reminiscinces of that trip.  Today will be the first installment, but probably not the last.
I flew from Salt Lake City to Minneapolis/St. Paul, and from there to Amsterdam.  In Amsterdam, I boarded an IranAir flight to Tehran.  I think that this was the first point at which the curiousness of what I was doing began to really sink in.  I've flown many times on Middle Eastern or "Islamic" airlines, but it was something of a jolt to be tended to by flight attendants wearing chadors.  (The uniforms were slightly more functional, actually, than the full chador, allowing the flight attendants to do their work, but, still . . . )
When I landed in Tehran, I was greeted by a committee of officials and further attendants.  It had been a long journey, and I was extremely tired, but I was happy that I would soon be in bed.  The time was somewhat past midnight, and I looked forward to a reasonably good night's sleep.
I was mistaken.  With others who had arrived on my flight (and whom I did not know until then), I was ushered into a reception, with scads and scads of food, as well as scads and scads of television cameras.  Getting a handful of Western (and especially American) academics to come to Iran was clearly a big deal.  The festivities went on for a remarkably long time, and I wondered whether those who had planned the affair had ever flown intercontinentally.
Finally, we were taken to our hotel.  While I was waiting to be assigned my room, I read the inscription around the base of the dome above the lobby:  "America," it said in Persian, "is the common enemy of all humanity."
I felt very welcome.
***
News from the Middle East and the world of Islam, as well as some related items:
"Anger erupts in Egypt after massacre of Christian pilgrims"
"Canadian broadcaster offers to sponsor Christian woman spared death in Pakistan"
"In Pittsburgh, Muslims are eager to join Jews in fight against immigrant hate"
This next one is a very thought-provoking piece:
"As religion wanes, 'religious' hatred grows"
Someone asked me just yesterday, I think, why (in my opinion) Muslim states have been so notably silent about the gross mistreatment by the regime that currently rules China of that nation's Uyghur Muslim minority.  As it happens, my answer, given pretty much off the top of my head, was very much along the lines of the following article:
"Why Muslim news media have shied away from covering the Uighur persecution story"
The appearance in theaters of Bohemian Rhapsody provides a good opportunity to think about a little-known religious tradition that ranks among the world's oldest:
"Freddie Mercury's family faith: The ancient religion of Zoroastrianism"