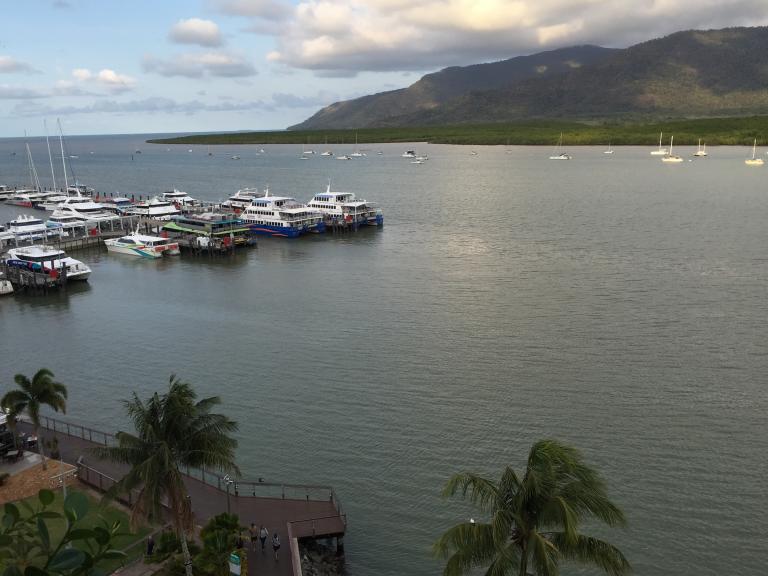 Travel and its vicissitudes being what they are, we drove this afternoon from Port Douglas to Cairns in order to catch our early evening flight back down to Sydney, but our flight was canceled. Major dust storms in the Sydney area have wrought havoc with air traffic. So, instead, we're spending the evening in Cairns, still in Queensland. Happily, we were able to get a room overlooking the Trinity Inlet, and we've been watching a multitude of beautiful birds in the tall palm trees beneath our balcony. I've tried to look them up, but I can't identify them. One species looks a bit like a kind of pigeon. It's a brilliant white, but its wings are roughly half coal black on top and its tail is edged with dark black. The other species, considerably smaller, is a luminescent green, with bright red and orange underneath as well as yellow and black. In a place like this, I could easily imagine developing a passion for birdwatching.
[Edited to add: I'm told that the second, more colorful, species — and they're very colorful — are lorikeets. Which may well be true, although, if they're rainbow lorikeets, I didn't notice the blue. Whatever they are, they're extraordinarily chatty. And there are hundreds and hundreds of them just below (and around) our balcony. Spectacular!]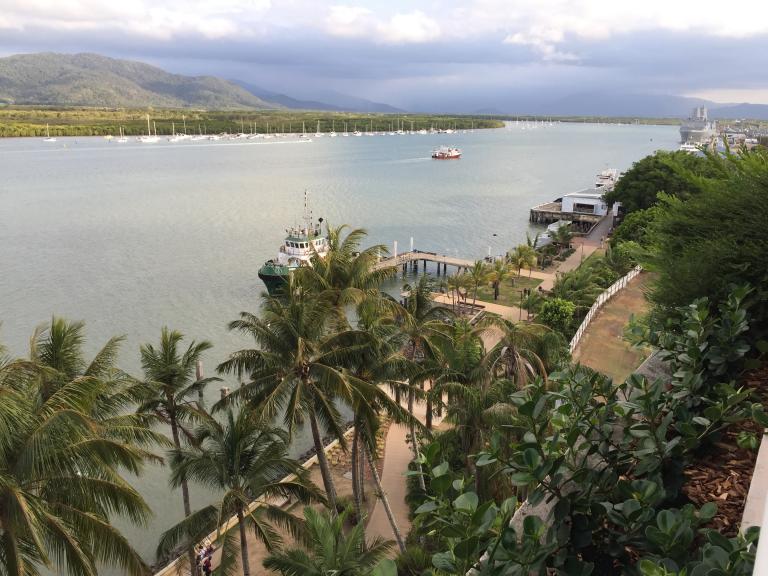 ***
Can vegetarianism save the planet? As it happens, although I'm not a vegetarian, let alone a vegan, I'm much more sympathetic to reducing meat-consumption and relying more heavily on whole, plant-based foods than I once was — in part, but only in part, because it seems to me consistent with scripture. (Perhaps I'll post something on that topic someday.)
In any case, I just now ran across an interesting article in The Australian, written by Bjørn Lomborg (whose articles are almost always interesting). However, it's behind a subscription wall, so I've found another way for you to take a look at it:
"Ban the Beef? For many environmental campaigners, eating meat is fast becoming as repellant as smoking – behavior to be discouraged or even banned. But is your hamburger really to blame for climate change, and would going vegetarian really help?"
Dr. Lomborg is almost always good for deflating fashionable environmentalist nonsense.
***
Autism is a great mystery and, very often, a painful one. So this may be a step forward, toward . . . well, toward something, anyway:
"Extreme Male Brain Theory of Autism Confirmed"
It gets me thinking, though. I don't mean to be flip, but, really, if gender is now a matter of preference, a question of how one feels, shouldn't autism, on this "extreme male brain theory" of it, also be a matter of choice?
***
Here's a curious item, kindly brought to my attention by Cody Quirk:
"Ancient termite megapolis as large as Britain found in Brazil"
***
"An Elephant-Sized Mammal Relative Roamed Among Dinosaurs: The lumbering beast is the biggest of its kind found."
Shhh. The fools don't yet know that the massive lumbering mammal was yours truly, and that I'm actually still around! (Somehow, though, I thought that getting old would take a lot longer than it actually has.)
Posted from Cairns, Queensland, Australia